Our town newsletter had this humorous "pearls of wisdom" in their just for fun section that was pretty funny. I am sharing some of the funniest ones from that article here for my readers....
If you look like your passport picture, you probably need the trip
Bills travel through the post at twice the speed of cheques
My idea of housework is to sweep the room with a glance
Artificial intelligence is no match for natural stupidity.
Funny huh? Anyway, moving on to the jam part of the post. For a while now I had this packet of dried apricot sitting in my pantry. Even though dried fruits rank high on my list of guilt free snacks,dried apricots do not enjoy the same high ranking as other dried fruits with me. So this packet has been sitting in a corner of my pantry largely ignored. Every time the guilt of ignoring this item gets to me, I end up making something with it like
this Apple apricot chutney
or
this Apricot pachadi (chutney)
.
I loved both the above chutneys with apricots but chutneys can only use up so much apricots and the packet in my pantry seemed like it would never get completely used up. Determined to use it up entirely, last week I decided to try and make jam with these apricots. This is the first time I attempted to make jam with dried fruits, so I was a little wary of its outcome. The jam was a success and one of my first thoughts was "now why didn't I think of this earlier :-) " Anyway I am glad I did, I got to use up the entire packet of apricots in a way that we both completely enjoyed and the success of this idea has already begun to give me ideas for new types of jams that I hope to try in the future :-)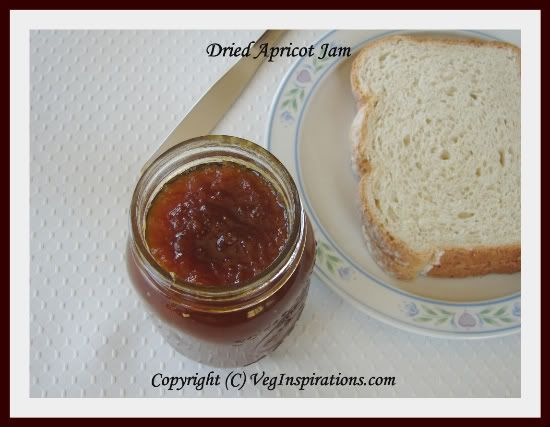 Here is another view of the jam.....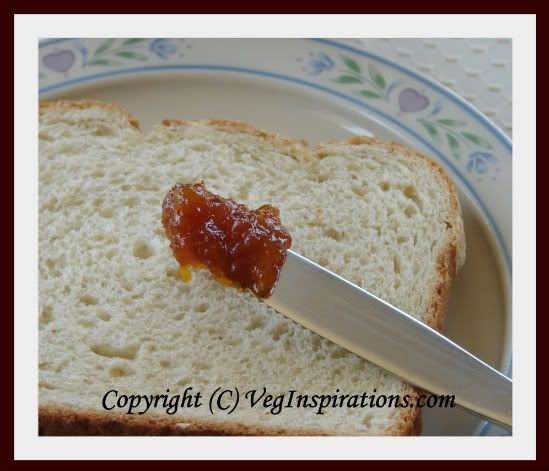 Click here for a printable view of this recipe
Ingredients and Method to make Dried apricot jam
3 heaped cups of dried apricots
2 cups water
2 3/4 cups of sugar
4 tbsp lemon juice
Soak
dried apricots in 2 cups of hot water for 30 minutes. Puree in batches until smooth or a little chunky.
Place puree in a heavy bottomed pan, add sugar and place on heat. Let this mixture simmer for a few minutes.
Add lemon juice and continue to simmer, stirring frequently until it begins to thicken. Do keep a lid handy as sometimes this mixture splatters a little. You know when the jam is ready, if you lift the spatula and allow the jam to pour and it flows together and not in little drops
The copyright of this content belongs to
Veginspirations.com
Alternatively, pour a few drops on a plate, if it spreads easily, then the jam is not ready. When you pour a few drops and it stays firm without moving, and has a jam like consistency, the jam is ready.
Remove from heat, cool slightly and pour into glass bottles. This quantity yielded me 2 16 oz bottles of jam
Notes
For this quantity I did not sterilize my bottle, since I was making a very small batch. In case you plan to make lot of jam, then it is suggested to sterilize your glass jar before you fill it with jam, click
here
to know how to sterilize your glass jars