Schezuan vegetable noodles come under the category of Indo-Chinese cuisine. Among the different spellings used to refer to this dish, I have most commonly seen it spelled as schezuan, schezwan or even schezwuan. Whichever spelling you prefer, the common star ingredient in all of these types of noodles is the schezuan sauce. Just as there are various spellings for this dish, there also seem to be various types of schezuan sauce. Mine is a variation of
this sauce that I made earlier for schezuan fried rice
.
Unlike the versions served at restaurants and street corners every where in India, my version does not use copious amounts of oil. I also used multi grain angel hair pasta in place of the hakka noodles that is traditionally used in this dish. What can I say......I cannot help trying to fiddle with each recipe to make it a little more healthier. Did I miss the oil and the hakka noodles......nah, not even one bit :-) This was a fun and delicious variation that really worked for us, give it a try and see if it works for you too :-)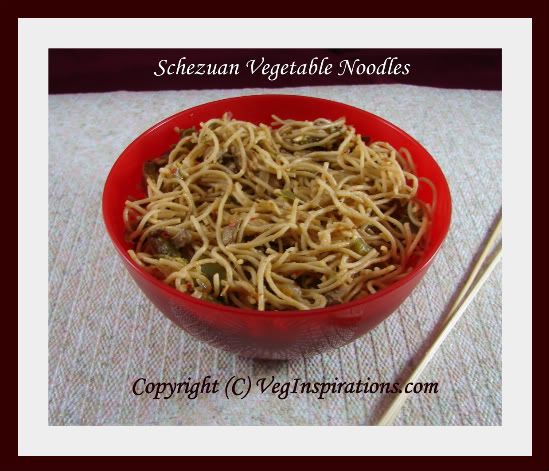 Click here for a printable view of this recipe
Ingredients and Method to make Schezuan vegetable noodles
200 gms of chinese style noodles prepared as per package directions. (see notes)
2 green bell peppers (capsicum) de-seeded and cut lengthwise into 1 to 1 1/2 inch pieces
2 medium onions sliced thin lengthwise
1 1/2 to 3 cups of thinly sliced mushrooms optional (can be substituted with thinly shredded cabbage)
2 tbsp low sodium soy sauce
3 tbsp schezuan sauce (recipe follows) (or to taste)
salt to taste
2 tbsp sesame oil + 1 tsp any type of oil
For the schezuan sauce
10 dry red chilies
2 inch piece of ginger
2 tsp minced garlic
2 tsp sugar
3 tbsp white vinegar
1 tsp salt
3 tbsp smooth and creamy peanut butter (optional)
1 tbsp sesame oil
Optional garnish:
Spring onion greens cut fine.
Prepare pasta/ noodles as per package directions. Drain, add 1 tsp of oil to the drained noodles and mix well. This prevents the noodles from sticking to each other. Keep this aside.
Make the sauce and keep aside. Prep the vegetables.
The copyright of this content belongs to
Veginspirations.com
Heat sesame oil in a large heavy bottomed pan or wok. Add onions to it and saute until the onions are transparent.Add the rest of the vegetables and saute on high heat until they are tender crisp.Add the prepared noodles, soy sauce, schezuan sauce and mix well.
Add salt to taste. Do remember that soy sauce and the schezuan sauce have some salt in it, so add little salt in the beginning and adjust as per taste.
If you are planning to garnish, add finely cut green part of spring onion at the end and serve hot.
For the sauce
Soak dry red chilies in warm water for 15 minutes, drain completely and grind along with all other ingredients
except
oil. Heat sesame oil to smoking hot, then pour over the sauce and mix well. Use this sauce as required in this recipe and the balance can be refrigerated for future use.
Notes:
Traditionally this is made with chinese style hakka noodles, but I used barilla plus angel hair multi grain pasta and found it really worked well in this recipe.It has a slightly different texture and taste as compared to hakka noodles but definitely not something that I missed in any way.
Some other Indo-chinese dishes that would complement this one to make a complete meal
Baked Vegetable Manchurian
Vegetable Fried Rice
This dish is off to the
Fast food event-Noodles
being hosted by Shama.