Rasam is a soup like preparation usually made with tamarind extracts and simmered with spices like pepper and cumin among other spices and served over a bed of plain hot steaming rice. Even though traditionally it is served with rice and a curry on the side, it tastes excellent as a light soup at the start of an Indian themed meal too. Anytime one of us is feeling a little under weather and I have to decide what to make for lunch or dinner, one of the first things that come to my mind is rasam. Not just any rasam, but something like jeera (cumin) or milagu (black pepper) rasam. These variations of rasam are considered "ideal get better from a fever" food, because it is light, nourishing, and the addition of spices like cumin and pepper make this easily digestible:-)
Recently I was down with fever for a couple of days and even with the fever, the food blogger side of me revealed itself when all I could think of was to make "something different " kind of rasam. I hopped on over to my reader and a quick search revealed a lot of interesting varieties of rasams made by my friends.
I was drawn to
Laavanya's lemon rasam
, it looked delicious and I loved that it combined cumin, pepper, tomatoes and lemon. Just imagining the flavors in the rasam made me feel a little better :-) I have always been partial to lemon rasam, because it does not need any tamarind, its quicker and simpler than the other kind of rasam and I love the taste of lemon. I tweaked Laavanya's recipe a little, omitted the rasam powder and turmeric powder entirely and made a few other small changes. Thanks for this delicious recipe Laavanya, we thoroughly enjoyed this rasam and I plan to make this more often in the future.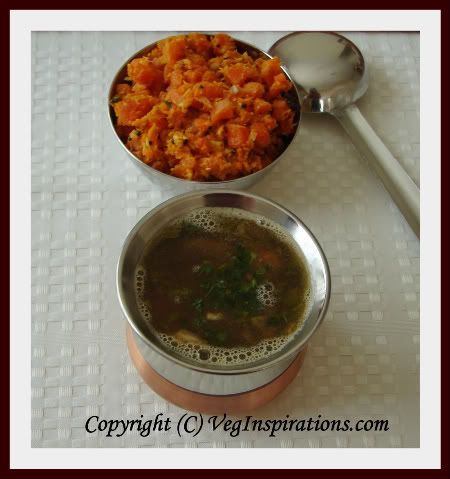 Click here for a printable view of this recipe
Ingredients and Method to make Lemon Rasam with Tomato
1/4 cup Split pigeon peas (tur dhal/ tuvaram parappu)
2 medium tomatoes blanched, peeled and mashed ( I used roma variety)
1/2 tsp cumin seeds
1/2 tsp whole black pepper
4 Thai or Indian variety green chilies (or to taste)
1 inch piece ginger
salt to taste
2 to 3 tbsp lemon juice (or to taste) (see notes)
2 tbsp finely cut cilantro (coriander leaves/ kothamalli) for garnish
Seasoning
2 tsp clarified butter (ghee/ nei)
1/2 tsp mustards seeds ( rai/ kadagu)
1/2 tsp cumin seeds (jeera/ jeeragam)
Soak split pigeon peas in sufficient water for 30 minutes and cook until soft. Keep cooked dhal aside.
Coarsely powder
cumin seeds + whole black pepper and keep aside. Blanch, peel and mash the tomatoes and keep aside. Check out
this post
if you want to learn how to blanch tomatoes. Mince green chilies and ginger together and keep aside.
In a medium sized pan, add mashed tomatoes, minced green chilies + ginger and 2 cups of water and place on heat. Let the mixture simmer together for a few minutes.
Mash the cooked dhal and add to the simmering tomato mixture. Add powdered cumin + black pepper and salt to taste and allow the mixture to simmer for a few more minutes.
In another small pan, heat clarified butter. Add mustard seeds to it, when the seeds begin to splutter, add cumin seeds. When the cumin seeds begin to sizzle, pour the entire mixture into the simmering rasam.
Adjust consistency if required and allow to simmer an additional minute or so.
The copyright of this content belongs to
Veginspirations.com
Remove from heat, add lemon juice, mix well. Garnish with cilantro and serve hot over a bed of plain steamed rice with a curry on the side.
Notes:
Adjust lemon juice to achieve required tartness. I used a combination of lemon and lime juice because my lemon was not tart enough for me :-)
If you refrigerate the balance of this rasam, re heat gently over low to medium low heat until warm to slightly hot, do not re heat it to a full boil, serve over a bed of hot steaming rice.