Using carom seeds as a digestive aid has always been common wisdom around our home. My mother in law makes
this cumin carom flavored water
regularly, especially after a heavy restaurant meal or when we return home from a trip because she believes that it helps in maintaining a healthy digestion. A couple of years back when I visited India I found an article about carom seeds in a magazine that had a few more home remedies using carom seeds. I jotted down the most important ones so that I could share it with my readers.
The first, a tip to make a tea with carom seeds as a cure for indigestion and other digestive problems. Boil 2 cups of water and add a tsp of carom seeds / ajwain to it.Allow to boil until the water is reduced to 1 cup, cool strain and drink the water. This reminds me of the cumin carom water I mentioned above, although I am yet to try this strong carom tea version :-) Carom seeds/ ajwain in buttermilk is said to be good for respiratory disorders. The third tip, crush carom seeds and bundle them in a light cloth and inhale, this helps to rid a headache or to clear nasal passages when you have a cold. And lastly including carom in our diet is said to help improve kidney function by strengthening the urinary tract as well.
I like to use carom seeds not just because of its health benefits but also because of its unique flavor and its taste. Ever since
the first time I used avocados in roti
and loved it, I make variations of avocado roti at home frequently. This time I made a version with carom seeds in it along with other spices. This roti like all the other ones with avocado is super soft and does not require even one drop of oil in either the dough or while cooking it making it super healthy too :-)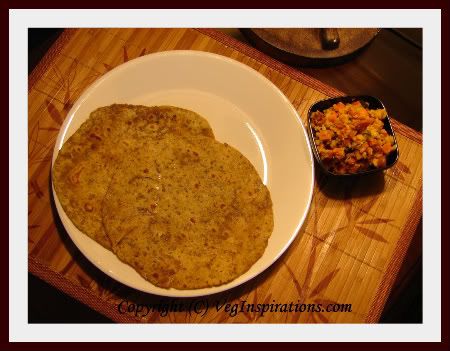 Click here for a printable view of this recipe
Ingredients and Method to make Ajwainy avocado roti
2 cups whole wheat flour (atta/ godumai maavu)
salt to taste
3/4 tsp carom seeds (ajwain/omam)
2 tbsp flax seed meal (powdered flax seeds/ alsi/ ali virai) (optional)
1 avocado ( pitted, peeled and mashed completely)
1/2 tsp red chili powder (or to taste)
1 tsp kasuri methi (dried fenugreek leaves)
pinch of asafoetida (hing/ perungayam) (optional)
water as needed
a little extra flour to help roll out the dough
In a
large bowl
, add all the dry ingredients and mix well. Add mashed avocado and mix into the flour.
Add water as needed and knead into a soft, non sticky dough. Cover and allow to "rest" for 30 minutes or so.
Divide dough into equal lemon sized balls. With the help of a little flour roll out into an even circle of desired thickness.
Heat a tawa/ griddle/ flat pan and place rolled out dough on it. Cook the roti gets small bubbles on the side facing upwards, flip over and cook the other side until it gets small golden/ brown spots. When both sides are evenly cooked, remove from heat.
Proceed with the rest of the dough in the same manner. Balance of the dough can be refrigerated and used within a couple of days.
The copyright of this content belongs to
Veginspirations.com
Serve rotis hot with
dhal
,
any type curry of choice
or even some pickle and
raita
.