Here's the question first, have any of you made or seen soan papdi being made ? Yesterday I was at the grocery store when a box of soan papdi caught my eye. It struck me then, that the only kind of soan papdi I have ever had is the store bought kind. No one in my home or my circle of friends/ relatives has ever made soan papdi as far as I know.
So I decided to ask my smart readers this, have any of you made or seen it being made. If you have tried it or someone in your home has tried it, do share your recipes of this sweet, I would love to give it a try sometime:-) I am sure the process is kind of fascinating, I'm especially curious about how they get the stringy kind of feel to it. For those of you who are unfamiliar with soan papdi, it is an Indian sweet made with chick pea flour and has this melt in your mouth quality that makes it truly irresistible................that is if you have a sweet tooth and I do :-)
Anyway moving on, remember
this tandoori sauce
that I posted a little while back. I had some sauce leftover after using it in pizza and I decided to try making mung bean curry with it. I know this is not a conventional recipe, at least I have never heard or seen such a combination before. And yet I have to say this curry turned out so delicious that I had to share it in this space. If the sauce is made ahead then this curry hardly takes anytime to put together making it ideal for rushed weekday meals. Try this is you like mung bean and are looking for a quick, simple and nourishing curry :-)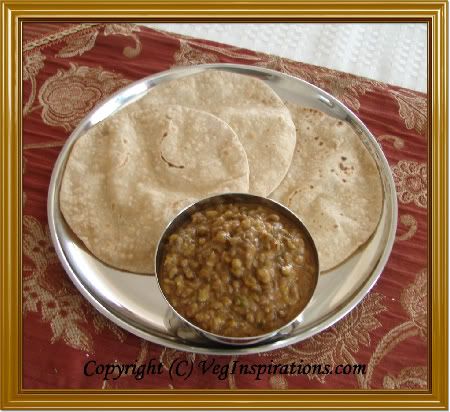 Click here for a printable view of this recipe
Ingredients and Method to make Mung bean in tandoori sauce curry
(click on underlined words to go to the recipe of those items)
1 1/4 cup dry whole mung beans ( whole moong) soaked in sufficient water for 3 to 4 hours
1 cup
tandoori sauce
1/2 tsp
garam masala
( or to taste)
1/2 tsp red chili powder (or to taste) ( optional)
salt to taste
2 to 3 tbsp finely chopped cilantro (coriander leaves/ kothamalli) for garnish.
water as required to achieve required consistency
Soak mung beans
in sufficient water for 3 to 4 hours. Drain water, fill with fresh water and pressure cook until the mung bean is soft yet not mushy. Alternatively mung bean can be cooked on the stove top until soft too.
In a heavy bottomed pan, add tandoori sauce, cooked mung bean, salt to taste, red chili powder if using and garam masala. Add water if required to achieve required consistency. Simmer for a few minutes until the flavors mingle. Finally garnish with cilantro
The copyright of this content belongs to
Veginspirations.com
Remove and serve hot with any type of Indian bread like phulkas, naans, chapathis or rotis or even with plain steamed rice, or jeera rice.