When I first started trying out new recipes, whenever I came across recipes in magazines or books that intrigued me, I used to jot down the idea in a book. Whenever I was in the mood for something different, I would go through my book and see if any of the ideas there appealed to me. One such idea that I came across and that I made frequently at one point was a potato roti made with all purpose flour (maida). I used to love that roti, it was soft and flaky and just melt in your mouth.
Sigh !! But just like melt in your mouth chocolates, this roti too was not what could be described as healthy:-( So I stopped making it completely and had almost forgotten about it. But a few weeks back when I was flipping through my book and I came across the recipe for it, I was tempted to make it again. I decided to make it with whole wheat flour this time and see how it worked out.
I tweaked the recipe a little more, added whole wheat flour and voila, I got a delicious roti that was soft and flavorful, perfect to go with any type of curry or dhal. In addition to its delicious taste another good thing about this roti is that the potatoes add softness to the roti making the need for adding any oil or clarified butter completely redundant.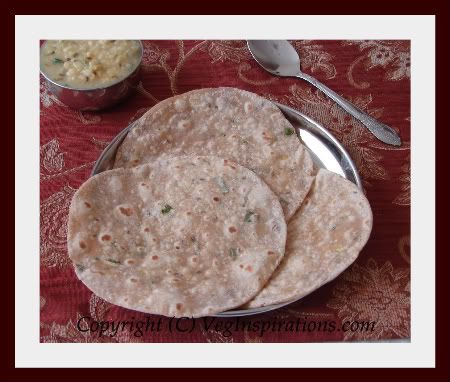 Click here for a printable view of this recipe
Ingredients and Method to make Potato Roti
1 1/2 cups whole wheat flour (atta/ godumai maavu)
1/2 tsp cumin seeds (jeera)
salt to taste
2 small potatoes cooked until soft, peeled and mashed
4 Thai or green chilies cut fine
2 tbsp finely cut cilantro
water as needed
a little oil or clarified butter to apply on the cooked rotis (optional, use oil for a vegan version)
a little extra flour for dusting
In a large bowl
mix together all the ingredients except water and cooked potatoes. Add mashed potatoes and mix into the flour.
Add water as required to knead into a soft and non sticky dough. This does not require much water since potatoes contribute some moisture too.
Divide the dough into equal lemon sized balls. With the help of a little extra flour, roll out dough into an even circle of even thickness of choice. Heat a flat pan/ griddle/ tawa on medium heat. Place rolled out dough on the heated pan.
The copyright of this content belongs to
Veginspirations.com
Cook for a little time, then flip over and cook the other side until it gets light golden brown spots. Apply oil or clarified butter if using on the side facing upwards and flip over, cook just a few seconds.
Remove and serve hot with dhal/ curry of choice. Proceed with the rest of the dough in the same manner.