In
this post
, I have already detailed how much I love pedhas so I will not go into it again. Just saying that I love this sweet would be somewhat of an understatement :-) I do not make this very often because I know that I would not be able to resist the temptation but on those rare times that this sweet appears in my home, I thoroughly enjoy it. Ever since I made mawa with
this recipe
at home for the first time, I have made these pedhas a few times.
I used
this recipe
as a reference for making the pedhas. Unlike
this microwave version
that I made earlier, I found these pedhas were a little more softer and since they needed to be shaped only after the mawa has cooled to room temperature they were considerably easier on the hands to shape into pedhas too :-) Both the mawa and the pedhas can be made in under 30 minutes, not taking the cooling time into account, making this a quick treat :-) So if pedhas are your weakness too, give this quick, simple recipe a try and tell me what you think:-)
And here is another view of the pedhas....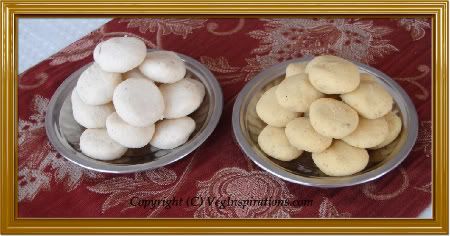 Click here for a printable view of this recipe
Ingredients and Method to make Mawa Pedha
1 heaped cup Mawa ( I made mawa as per
this recipe
)
1/2 cup sugar (see notes)
1/2 tsp cardamom seed powder (elaichi/ ellakai)
a generous pinch of saffron in 1 tsp warm milk
a few slivers of pistachio/ almond to top the pedhas (optional)
Cool prepared
mawa to room temperature. In 1 tsp of warm milk add saffron and allow to sit for a few minutes.
In a large bowl, mix together cooled mawa, sugar, cardamom powder and saffron in milk. Shape into pedhas, top with slivers of pistachios or almond if using and store in an airtight container.
The copyright of this content belongs to
Veginspirations.com

It doesn't require refrigeration if it is consumed within a day or two, any longer and I would suggest it be refrigerated. It never lasts that long anyway :-)

Notes:
My version of pedha is mildly sweet, for those of you who like your sweets very sweet, you may need to increase the quantity of sugar.

Also since in the US, regular cane sugar is very fine it can be used just as it is in this recipe, but in other places, if your sugar is not very fine, you may want to use powdered sugar in this recipe

Suggested Variation
For an even quicker pedha, use a few spoons of kesar pista milk powder instead of saffron and continue with the rest of the recipe as above.