Since the first time I made
garam masala
at home and experienced the difference it made to the dishes it was used in, I was sold on the idea of making spice powders at home. The freshness and taste of homemade spice powders is incomparable and it elevates even an ordinary dish to something special. Now whenever I run out of some of the spice powders I use, I avoid re-stocking them immediately, hoping that it acts as an additional motivator for me to make the powder at home.
This time the spice powder I ran out of and decided to make at home was Pav bhaji masala powder.
Pav
bhaji
is a very popular street food from India. Pav Bhaji literally means bread and vegetables. The vegetables are cooked and mashed and spiced with a special pav bhaji masala and generally topped with generous quantities of butter and served with this pav which is used to mop up the mashed vegetables.
I have made
pav bhaji
a few times since I made this powder and every time I do, it surprises me how much fresher and tastier the bhaji tastes because of the masala. It does not take very much time to make and can be stored for a good amount of time in the pantry, so it is definitely well worth the effort. I am sure I am never going back to store bought masala powder for pav bhaji after tasting bhaji made with this powder :-)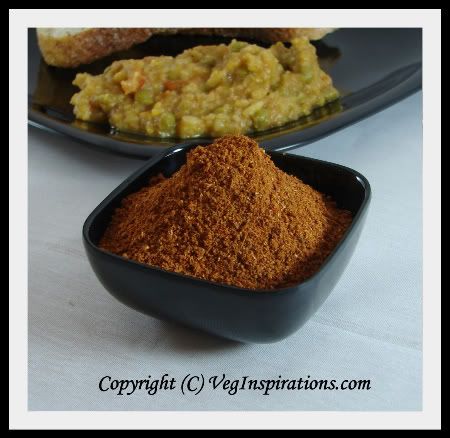 Click here for a printable view of this recipe
Ingredients and Method to make Pav Bhaji Masala Powder
5 black cardamoms
1/4 cup coriander seeds (Dhania/ kothamalli virai)
1/8 cup cumin seeds (Jeera)
1/8 cup whole black pepper (miri/ milagu)
1 1/2 tbsp fennel seeds (saunf/ sombu)
10 whole red dry chilies
13 1 inch pieces of cinnamon
2 tbsp dry mango powder (amchur powder)
Dry roast
all the ingredients
except
amchur powder for a few minutes on low to medium low heat until the spices release an aroma.
Add dry mango powder and roast another minute or so. Remove from heat, cool thoroughly and grind using a spice grinder to a fine powder.
The copyright of this content belongs to
Veginspirations.com
Store in an airtight container and use as required in pav bhaji. (see notes)
Notes:
If pav bhaji is not quite your thing, this powder can even be used in place of curry powder or to spice up any other Indian style curries or dishes