The word "market" conjures up images of a bustling place with vendors displaying interesting and colorful merchandise. Whether it is a street market in India or a farmers market here in the US, a trip to the market has always been either fun, interesting or a chore. Somehow I have never associated the word "afraid" or "scared" with going to the market.
Recently my niece Swathi shared this video clip of a very unique market with me. I have never ever seen something like this before. The vendors have spread their merchandise on both sides of a train track. This is an operational track and the train actually passes with what seems like quarter of an inch to spare. The second the train is gone, they spread out their awnings again and go right back to selling their stuff. Unbelievable !! Now here is a market that I would probably be scared to shop in :-) Have a look at the clip
here
, if you want to see what I am talking about..... :-)
Moving on, milk solids known as Mawa form the basis for many desserts in Indian cooking. Traditionally mawa is made by simmering milk on a low heat until it loses most of its moisture. Since this is very time consuming, there are some short cuts to make life easier :-) I got the idea for this kind of mawa from a food forum quite a while back. After a few tries I have come up with my own proportions that seems to do the job for me. This mawa can be made in a few minutes and can be used in a variety of desserts. I used this mawa to make a mawa pedha (a kind of milk fudge) that I will post in this space very soon, until then here is the mawa recipe...... :-)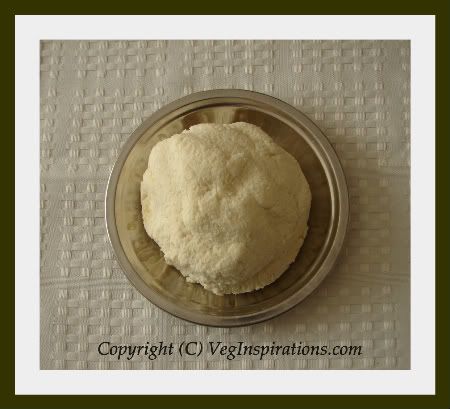 And here is another closer view of the mawa.......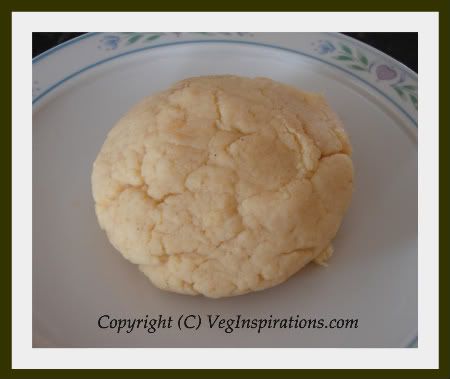 Click here for a printable view of this recipe
Ingredients and Method to make Quick Mawa
1 cup ricotta cheese
1 1/2 cups dry milk (milk powder) (I used Carnation)
2 to 3 tsp clarified butter ( ghee/ nei)
Place ricotta cheese
in a heavy bottomed pan and place on medium heat. When the cheese begins to melt add dry milk and mix well making sure no lumps are formed.
Add clarified butter and stir the mixture for a few minutes until the mixture begins to leave the sides and begins to thicken.
The copyright of this content belongs to
Veginspirations.com

Remove from heat, place in another bowl and allow to cool. Use as required in recipes as needed. I made mawa pedha with this and it turned out wonderful, will post the recipe shortly so stay tuned :-)

Notes:
Make sure to use fresh milk powder as it makes a big difference to the taste of the mawa and the dessert it is used in...