It has been a really strange fall season in our region so far. Usually around this time time we see temperatures in the fifties, instead we are seeing temperatures in the seventies and this is already the third month of fall. Fall is one of the seasons that I really look forward to, especially in the middle of summer when we see temperatures unrelentingly stuck in the nineties and hundred's, just the thought of cooler temperatures is so very appealing.
The only thing I really miss about summer when it is gone, is the sight of beautiful flowers blooming all over the place. Knowing I would miss it, I decided to capture a few pics of some of the flowers that were blooming on my plants so that I could at least enjoy the pictures in the fall and winter when there are hardly any blooms around my area. I am sharing a couple of them here for my readers :-)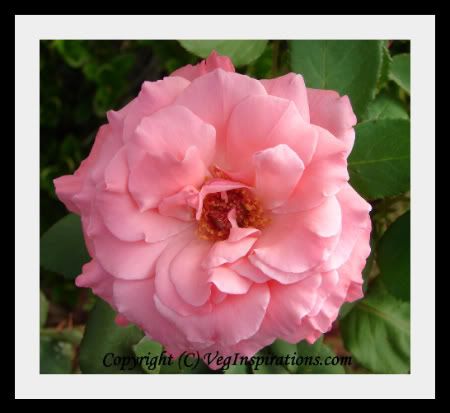 Here is one of the blooms from my first hibiscus plant that I got this spring........
Real pretty aren't they? I have to admit, every time I see a bloom on one of my plants, I cannot just go past it without stopping and admiring each bloom for a few seconds at least :-)
Moving on to the main reason for this post, sundried tomato chutney. Ever since I tried using sundried tomatoes in
this eggless omelet
, I have been wanting to try using sundried tomatoes in more fusion recipes and see how it works out. This chutney/dip/ spread was something I came up with, just because I thought it might taste good:-) ........ And it did, I was surprised at how good this chutney tasted and I kept thinking I should have tried this earlier :-) And the best part, this chutney turned out to be very versatile, I have used it as a chutney, dip and spread and loved it in all its avatars :-)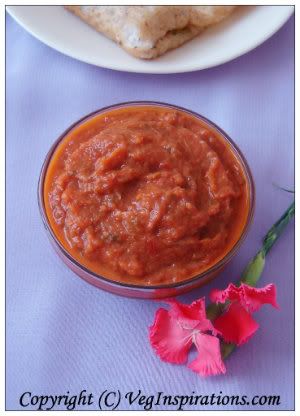 Click here for a printable view of this recipe
Ingredients and Method to make Sundried Tomato Chutney
Packed 1/4 cup sundried tomatoes (10 halves)
1/2 of a large red onion cut very fine (or a small onion )
1 clove garlic peeled and cut fine
2 tbsp oil
2 whole dry red chilies (or to taste)
salt to taste (I used approx 1/2 tsp )
handful of cilantro cut fine
Soak
sundried tomatoes in 1/2 cup hot water for 15 to 20 minutes. Drain and reserve the water to be used later.
Heat oil in a small/ medium heavy bottomed pan. Add onions and saute until it turns transparent. Add garlic and stir a few times.
The copyright of this content belongs to
Veginspirations.com
Add dry red chilies and stir a couple of times. Add drained sundried tomatoes and stir a few times. Add cilantro and remove from heat.
Cool to room temperature and grind in a blender/ spice grinder/ mixer. This chutney can be ground to a smooth paste, but since I wanted my chutney with a little bite I ground the mixture to a coarse paste.Use the reserved water from earlier as needed to get the blades some movement in your blender and to achieve the correct consistency for the chutney. Add salt to taste and give it a another turn in the blender.
Remove and store in an airtight container.
Serve as a dip with vegetables/pita chips or use as a chutney or use as a spread in a sandwich.
This time, I used this as a spread in a sandwich with
this eggless omelet with sundried tomatoes
as the stuffing and loved the combination together :-)
My friend Lisa's is hosting
A celebration of Indian food event
this month and this sundried chutney is on its way to that event :-)