Updating the
recipe index
on this site, has been on my to do list for the last few months but I never managed to get around to doing it. Finally these last few days I managed to find some time and was able to devote my attention to it. I am happy to report that
my index
is finally up to date, hop on over to
it
if you want to have a look at the
completed index
:-)
Today is turning out to be the day for completing a lot of things that have been sidelined for a few months. This carrot halwa is another one of the things that I have ignored for quite a while. It has been sitting in my drafts since August of this year, when I made it for my uncle and aunt and a few friends for lunch. Somehow there always seemed to be one other recipe that needed to get posted before it on this site, and this carrot halwa got ignored.
Recently my aunt Kavitha, who liked this halwa the last time I made it for them, asked me why this recipe hasn't made it to my site yet and requested me to post it asap. I guess that was just the motivation I needed to post this recipe without any further delay, so here it is...... For those of you unfamiliar with carrot halwa it is a simple Indian dessert, a little like pudding, that is made with carrots, milk and sugar. It tastes fantastic on its own, but for a really decadent treat try this warm with a scoop of vanilla ice cream on top. Yum:-) My picture doesn't do justice to this amazing dessert, I hope to update it at some future point with a much better one :-)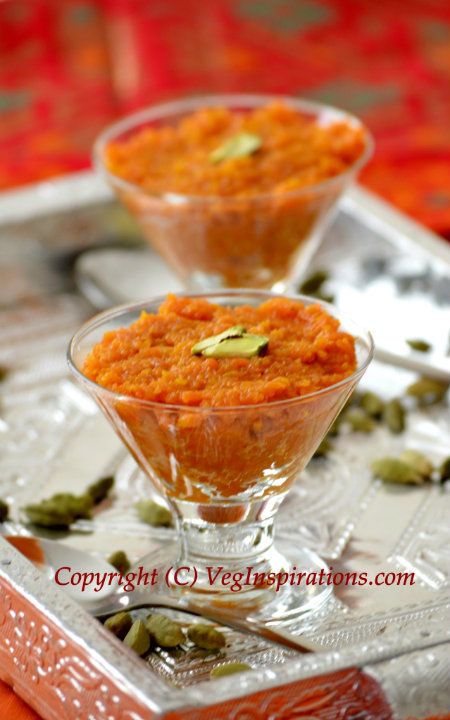 Click here for a printable view of this recipe
Ingredients and Method to make Carrot halwa
9 cups packed grated carrots
3 cups whole milk
1 cup half and half or milk (see notes)
2 cups sugar (see notes)
1/2 tsp cardamom seed powder (elaichi/ elakkai)
optional garnish
2 tsp clarified butter (ghee/nei)
3 tbsp broken cashew nuts (kaju)
In a
large heavy bottomed pan
add the grated carrots and milk and place on medium heat. Cook the carrots until soft and most of the milk has evaporated.
Add sugar and continue to cook until the sugar melts and the mixture simmers for a while. When the mixture starts to leave the sides of the pan and begins to come together add cardamom powder and mix well.
The copyright of this content belongs to
Veginspirations.com
Remove from heat and keep aside. For the garnish, heat clarified butter in a small pan and add the broken cashew nuts. Roast lightly, when the cashew turns lightly reddish, remove and pour the entire mixture over the halwa.
Serve halwa warm or cold. This halwa tastes awesome when served warm with a scoop of vanilla ice cream on top.
This recipe can easily be halved or quartered if you want to make a smaller quantity of halwa.
Notes:
The carrots can be cooked entirely in milk, half and half is optional. It just adds a little more richness to the halwa so I use it sometimes.
Since I like my desserts mildly sweet I only use this quantity of sugar, if you like your desserts sweeter do increase the quantity of sugar according to taste.