With the intention of making sundried tomato pesto, I had purchased a pack of sundried tomatoes that was lying in my pantry waiting for the day when I got around to making pesto. Somehow making pesto never figured very high on my list of things to do in the last couple of months and I felt guilty every time I saw the sundried tomato packet languishing in my pantry.
One day when I was planning to make eggless omelet, it suddenly struck me that sundried tomatoes might be an interesting addition to the omelet. Have you ever tried an eggless omelet? I know it sounds a little strange to even think of an omelet without eggs but I have been making some variation of this omelet for a long time now and enjoy it each and every time. Eggless omelet is essentially a savory pancake made with chick pea flour and a combination of veggies and cilantro for flavor. Just to be clear it does not really taste exactly like an omelet with eggs in it, quite different but it definitely tastes delicious !! I think I came across this idea a long time ago in some magazine and had noted it down in my book. Every time I make this I have been varying it a bit and the latest change to my version of omelet is the addition of yogurt and baking soda.
The addition of both these ingredients improves the taste and texture of the omelet significantly. The addition of sundried tomatoes added a very intriguing and interesting taste and it was a huge winner with my family:-)
One of the times I made this I used it as a sandwich stuffing and I loved how it tasted, especially since I used some sundried tomato chutney in the sandwich and the combination of flavors worked out really well.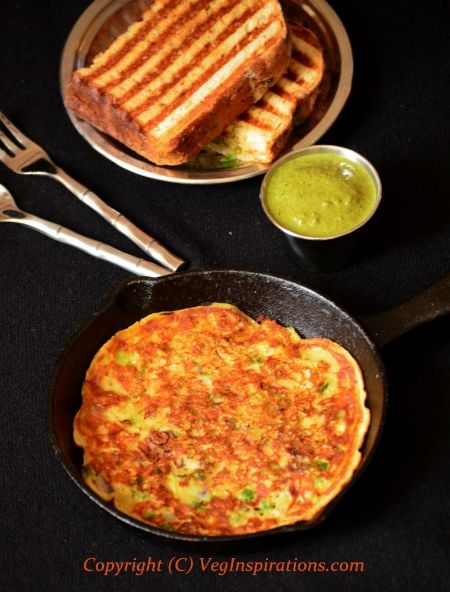 Click here for a printable view of this recipe
Ingredients and Method to make Eggless omelet
1 1/2 cups chick pea flour (besan/kadalai maavu)
2 cups plain yogurt (curd/dahi/thayir) (see notes)
1 green bell pepper (capsicum/ koda molagai) de-seeded and cut very fine
6 halves of sundried tomatoes cut very fine
2 Thai or Indian variety green chilies (or to taste)
1/2 of a large red onion or a small red onion cut very fine
handful cilantro (coriander leaves/dhania/ kothamalli) cut very fine
salt to taste (I used approx 1 1/4 tsp)
1/2 tsp baking soda (optional but recommended) (see notes)
a little extra virgin olive oil to shallow fry the pancakes/ omelet
Mix together
chick pea flour and yogurt (or water if making a vegan version, see notes) in a bowl. Using a whisk or hand blender makes this process easier. Mix until little bubbles are seen on the surface and make sure there are no lumps
Add to it finely cut onions, green bell pepper, green chilies, sundried tomatoes, cilantro, salt to taste and mix well. Add water
only if
required, this batter needs to be a little thick. When in doubt err on the side of thicker batter, you can always add more water later if required to get the right consistency. I did not add any water to this batter with these proportions.
Heat a flat pan/ tawa/ griddle on medium heat. Just before making the omelet add baking soda and mix well. Pour a small quantity of batter on the pan/ tawa/ griddle in a small circle. Pour a few drops of olive oil around the circumference of the omelet.Cook the omelet on a low to medium low heat, so that it cooks all the way through, otherwise the outside gets brown and the insides are still not done. When the lower side turns golden brown, flip over and cook the other side. When the other side gets light golden brown spots remove from heat.
The copyright of this content belongs to
Veginspirations.com
Serve hot with a chutney/ dip/ ketchup or use as a stuffing in a sandwich. Sometimes we have this on its own and sometimes I use it in a sandwich as a sandwich stuffing. This time around, I made sundried tomato chutney ( I plan to post that recipe soon) and used that along with this omelet in a sandwich and we loved the result. In the past I have also tried this sandwich with some cilantro mint chutney/ cilantro peanut chutney and even pesto. It tastes good in all versions :)
Updated : Here is
the link for the sundried tomato chutney
The balance of the batter can be stored in the refrigerator and used within a day or so. If you plan to store this any longer, I would suggest storing the veggies and the batter separately and adding the veggies to it just before using the batter, this way veggies like onions do not release water and make the batter thinner.
Notes:
I have noticed that using 2 cups of yogurt is not absolutely necessary, it could be reduced to 1 1/2 cups too and a little water can be added to get the right consistency. Also a few tablespoons of sour cream can be added in addition to the yogurt to give the omelet a little more richer taste but that is completely optional. If you do add some sour cream make sure to adjust the quantity of water and yogurt to get the right consistency
For a vegan version, this pancake can be made completely omitting the yogurt too. I have made vegan version of this pancake in the past. It tastes a little different but tastes pretty delicious.
I have also made this with and without the baking soda and find that adding baking soda gives it a little rise and the pancakes/omelets taste way better with the soda than without :-)