One of the things I love about baking, I mean other than the finished product, is the aroma in my kitchen while baking. The last couple of months I have not baked at all, except for a couple of times when I was experimenting with multi grain bread. So I kind of missed the whole baking experience, the taste of freshly baked breads/ muffins , the aroma....everything. I was looking forward to doing some baking and the first chance I got, I got busy with it :-)
I had this fair amount of unsweetened store bought muesli that has been sitting in my pantry for a while. It was my plan to make either some breakfast bars with it or some muffins. The muffins won out this time only because I wanted to use up some of the sweetened mango pulp sitting in my refrigerator :-) I added some cardamom to give this muffin a more unique and distinctive flavor. The muffins turned out to be both soft and tasty and the entire batch was gone before I could take more pictures :-) Now I am looking forward to making another batch of these so that I can take better pictures next time :-)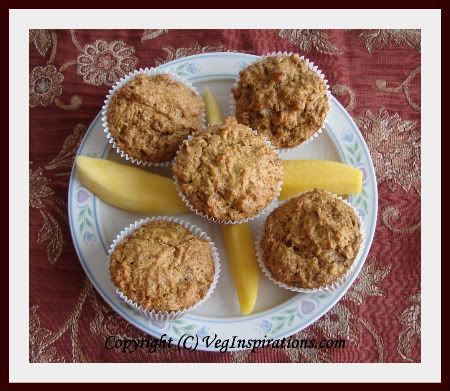 Click here for a printable view of this recipe
Ingredients and Method to make Mango Muesli Muffins
Dry Ingredients
1 cup spelt flour (can be substituted with All purpose flour/wheat flour)
3/4 cup no sugar added muesli (see notes)
1/4 cup sugar (see notes)
1/2 tsp baking soda
1/2 tsp baking powder
1/4 tsp salt
5 cardamom seed powder
Wet Ingredients
1 tbsp flax seed meal + 3 tbsp water whisked together until it turns gelatinous
1/4 cup oil
1/4 cup sweetened mango pulp
Pre heat oven to 350 deg F.
Line muffin tray with muffin liners and keep aside.
In a large bowl add all the dry ingredients and mix well.
In another bowl, whisk together flax seed meal with water until it turns gelatinous. Let sit for a couple of minutes. Add mango pulp and oil to the flax seed mixture and mix well.
The copyright of this content belongs to
Veginspirations.com
Add the wet ingredients to the dry ingredients and mix gently until all the ingredients are mixed well.
Spoon mixture into the pre lined muffin tray until it is 3/4th full. Place tray in the oven and bake for 20 minutes or until a toothpick inserted in the center comes out clean.
Remove, cool and enjoy :-) Store in an airtight container and use within a couple of days for freshest taste.
Yielded 6 muffins.
Notes:
I had unsweetened muesli so I added some sugar, in case you have sweetened muesli and sweetened pulp too you can probably skip the sugar entirely.