This long absence from blogging felt really strange. I cannot remember the last time I have stayed away from this space for a whole two week period. Even when I am very busy, I usually find some time to post at least once a week, but in the last two weeks I couldn't manage even that. Between family visiting, road trips and a lot of socializing this blog
had to
take a back seat for a while. Anyway I am back now, recharged and full of new ideas, so keep watching this space for more frequent updates and posts soon :-)
Since I had to take a break from blogging, I was not able to respond to all of you for your comments and emails after
my last post
, but I read each and every one of them. Thanks all of you, I am so glad that so many of you liked the fabric art. For all of you who wanted the step by step pictorial for fabric art, do check out
this post
where I have explained how I did this art :-)
Moving on to the ribbon bakshanam, I am sure this snack needs no introduction for those of you familiar with south Indian cuisine, for the others the best way I can think to describe this snack is as crunchy rice and chick pea flour sticks which are shaped like ribbons, hence the name :-) Bakshanam as I mentioned in
this earlier post
is a catchall term for most fried snacks in Tamil (an Indian language) .
All types of ribbon bakshanam that I have seen use a combination of chick pea flour and rice flour as their base ingredients, only the proportion seems to vary from family to family. My mother in law's version usually uses more of chick pea flour and less of rice flour, and I usually make it that way. Only recently I have been playing around with the proportions to see how it works out. And this version that I made a few months back for the first time was quite clearly a success. I have made it quite a few times since the first and everyone that has tasted this in my family loved it. If you like snacks as much as I do, then this might be something that you may find interesting, give it a try and let me know :-)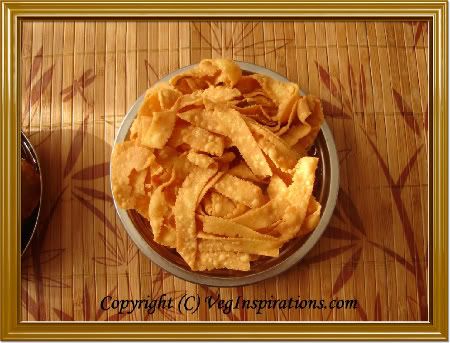 Click here for a printable view of this recipe
Ingredients and Method to make Ribbon Bakshanam
2 1/2 cups rice flour
1 cup chick pea flour (besan/ kadalai maavu)
1/4 tsp asafoetida (hing/ perungayam)
2 heaped tbsp split black gram lentil flour (udad dhal flour/ ulatham maavu)
salt to taste ( I used approx 2 1/2 tsp )
3/4 tsp red chili powder
1 tbsp melted butter
Oil as required to deep fry the fritters
A press
such as this one
with the desired shape disc to shape these spirals.
In a large bowl
, add all the dry ingredients one by one and mix together. Add melted butter and mix it into the flour mixture.
Add water slowly and knead into a soft dough. If the dough is very stiff then it will take more effort to shape it through the press, if it is too soft, it will consume more oil when deep fried, so add water slowly a little at a time to get the right consistency for the dough.
Place oil in a wide pan/ wok and keep it on a medium heat.
When the oil gets hot, place the desired shape disc in the press. Then pinch out required quantity of dough, roll into an elongated ball, place in press,close and press directly into the hot oil if you are comfortable doing that. Alternatively on a large wide kitchen tissue press out the dough in small circles in as large or small size as you are comfortable.
Gently remove each one from the tissue by placing it on your palm and slide it into the oil. Depending on how much oil you have heated, and the size of the pressed out dough, you may be able to put in more than one into the oil.
After a few minutes flip with a spatula to ensure even cooking. Remember to keep the heat on medium throughout, otherwise the outside will be very dark and the insides not properly cooked. When the fritters/ribbon turns a golden color, remove and place on a kitchen tissue to drain excess oil.
The copyright of this content belongs to
Veginspirations.com
When cool store in an airtight container, and it stays for a good long while if it lasts that long :-) Enjoy with tea/ coffee or as an anytime snack.
Notes:
I find pressing out the dough on a tissue gives me more control and makes it easier to make even sized circles.It also spares me from standing near the hot oil during the entire time so I prefer to press out the dough on a tissue before transferring it to the oil.