Can there be anything more boring and mundane than having to clean up the kitchen after cooking a large meal? After cooking a large meal, all I want to do is to finish up in the kitchen and move on to the next thing on my to do list, instead I have to devote this fair chunk of time to cleaning the kitchen. Sigh !! As I result, I am always looking for tips that make cleaning up simpler and quicker.
Here is an interesting article
that I came across recently in readers digest, it had some interesting tips on kitchen cleaning. I haven't tried any of them but a few of them sound quite interesting. Especially the one about cleaning the blender with a drop of liquid dish detergent and water and just running the blender sounded really cool. Will definitely be trying some of these in the future.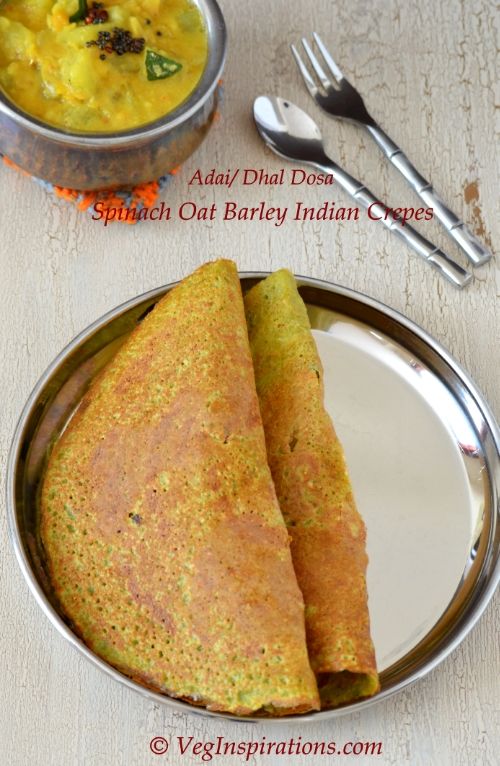 Of course, one simple way to avoid spending a lot of time on clean up is to make something simple, read that as a single dish meal :-) I do this occasionally and one of the dishes I like to make is adai (savory Indian crepe). I have already explained what adai is in
this post
so I will not go into it again This version of adai has brown rice, lentils, oatmeal , barley and spinach. In addition it takes very little time to make and is delicious, really, what's not to like :-) So if you are looking for ways to sneak in some oatmeal , barley or spinach, this adai here is yet another way to do it.......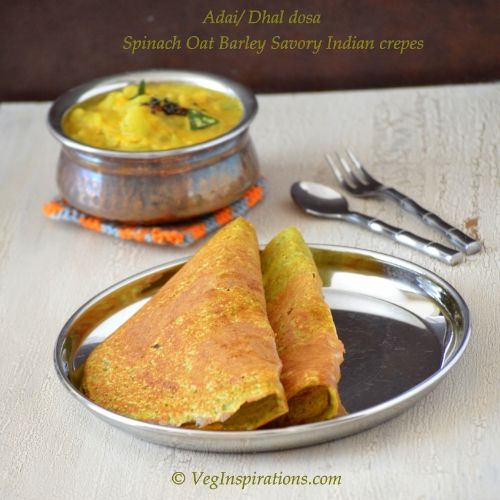 Click here for a printable view of this recipe
Ingredients
and Method to make Spinach Oat adai
1 cup brown rice (or white rice) (Chawal/ arisi)
1 cup rolled oats
1/2 cup pearl barley
1/2 cup whole red lentils (masoor dhal)
1/3 cup split mung bean lentil (mung dhal)
1/3 cup split pigeon peas (tur dhal)
5 Thai or Indian green chilies (or to taste)
5 small whole dry red chilies (or to taste)
salt to taste
1/4 tsp asafoetida powder (hing/perungayam)
1 and 1/2 cups of packed spinach leaves (Palak/ keerai)
In a large bowl mix together the first six ingredients, add water and swirl with your hand and drain water. Fill with sufficient water and allow the grains to soak for 3 hours.
Grind these soaked grains in batches along with red and green chilies adding only as much water as is required. The grains need only to be of a coarse texture so you do not need to grind it smooth.The batter needs to be on the thicker side, not runny so do not use water too liberally when grinding the batter.
Add a little spinach in each batch and give it another turn in the blender until the spinach is pureed too.
Add salt to taste and asafoetida powder to the batter and mix well.
The copyright of this content belongs to
Veginspirations.com
When making adai, heat a flat pan/ griddle/ tawa on medium heat. When hot, pour a little batter on the center of the pan/ tawa and quickly spread it into a thin circle. Pour a few drops of sesame oil around the circumference of the adai. When the lower side is golden brown, flip over and cook the other side until it has a few brownish/golden spots on it.
Here is a video clip of the process of making adai. This clip is not of this particular but the consistency of the batter and the technique is similar so am attaching the video here, if you would like to get an idea of how it is done, take a peek....
Remove and serve hot with some
Molaga Podi
(spice powder)
/
chutney of choice
/ honey or jaggery/ some aviyal :-)
Refrigerate unused portion of batter and use within a few days for freshest taste.
Yield will depend on the size and thickness of each adai.