Oat bran is the edible, outermost layer of the oat grain. Like oatmeal, oat bran contains a good amount of heart healthy soluble fiber. It also contains a considerable amount of minerals including magnesium, copper and manganese. Just as with oatmeal, oat bran is also said to help in reducing cholesterol and is said to help in stabilizing blood sugar.
For a while now I have been wanting to use more bran in my diet. During my last visit to the health store I finally picked up both oat bran and wheat bran intending to use them in my baking. Initially I started using oat bran in small quantities in my yeast breads. Then I moved on to using it in muffins. This muffin is the first kind that I made with so much bran and I have to admit, I was a little wary about the texture of the muffin. But the muffin turned out to be very soft,not too chewy and definitely not very dense either.This is a pretty filling muffin because of the fiber in it and would make for a good option for breakfast on the go, or a travel snack too. If you have some oat bran lying around in your pantry, give this one a try and tell me what you think:-)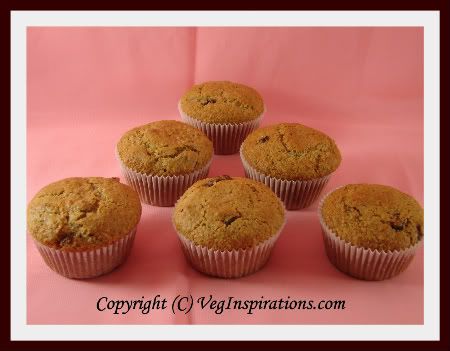 Click here for a printable view of this recipe
Ingredients and Method to make Oat Bran Muffins
Dry Ingredients
1 cup oat bran
1/2 cup whole wheat flour
1/2 cup all purpose flour
1/2 tsp salt
1/2 cup sugar
2 tsp baking powder
3/4 tsp baking soda
1/2 cup plump dark raisins
Wet Ingredients
3 tbsp flax seed meal (alsi powder/ali virai) + 9 tbsp water
1/4 cup oil
1/2 cup milk
1 1/2 tsp orange extract
Pre heat oven
to 375 deg F. Line a muffin tray with muffin liners and keep aside.
In a large bowl add all the dry ingredients, mix well and keep aside.
In a small bowl whisk flax seed meal and water until it becomes gelatinous. Let sit for a couple of minutes, then add oil to it and mix well.
The copyright of this content belongs to
Veginspirations.com
Add this mixture to the dry ingredients and mix well. Add milk to this mixture and mix gently. Finally add orange extract, mix well.
Spoon mixture into the lined muffin tray until it is 3/4th full. Place in the oven and bake for 15 to 20 minutes or until it turns golden and a toothpick inserted in the center of the muffin comes out clean.
Remove, cool and enjoy. Store in an airtight container and use up within a couple of days for freshest taste.
Yielded approximately 10 regular sized muffins.