Punjabi Kadhi or Kadhi Pakora can simply be described as chickpea dumplings in buttermilk gravy curry. This dish originates from north Indian cuisine. Traditionally these dumplings are deep fried and then added to the gravy. But since we have somewhat of an aversion to deep frying in our home and avoid it whenever possible, I make these pakoras using my aebleskiver pan (appa kaarai). This allows me to use just a couple of drops of oil per ball and gives me the same results. It is a bit slower than deep frying but I feel it is worth it to spend a few extra minutes at the stove rather than working out a few extra hours trying to burn the excess fat from the oil :)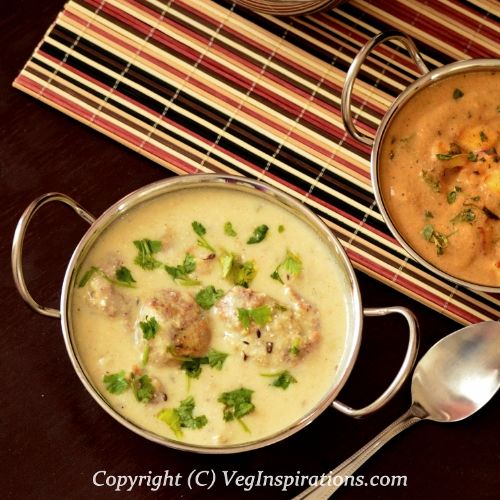 Since I started using my aebleskiver pan, I have started making this dish more frequently and tweak it regularly to make it even healthier. One of my favorite tweaks is to add flax seed meal to the dumplings. Trust me, no one ever guesses that flax has been added to the dumplings, because the nutty flavor of flax blends perfectly with the flavor of chick pea flour. And it becomes an easy way to include some healthy omega in our diet. So if the idea of making this traditional dish with a healthy twist appeals to you, give this one a try. As always I look forward to your feedback on it :)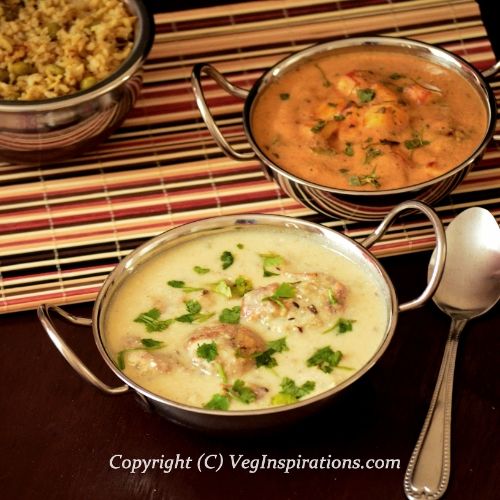 Click here for a printable view of this recipe
Ingredients and Method to make Kadhi Pakodi
For the pakora (dumplings)
1/2 cup finely cut onions
3/4 cup chick pea flour (gram flour/ besan)
1/4 cup flax seed meal (powdered flax seeds/ alsi/ ali virai)
2 Thai or Indian variety green chilies cut very fine
salt to taste
1/4 tsp red chili powder (or to taste)
pinch of soda
water as needed
a few drops of oil
For the kadhi (buttermilk gravy)
3 tbsp chick pea flour (gram flour/ besan) mixed with a little water
2 cups plain unflavored yogurt
1 cup water or as required to achieve desired consistency
salt to taste
1/2 tsp garam masala (can be substituted with any other curry powder) (If you want to make your own garam masala
here is the link to my recipe
)
1/4 tsp cumin powder (jeera pwd)
1/4 tsp coriander powder (dhania pwd)
Seasoning
1 tsp oil
3/4 tsp cumin seeds (jeera)
2 Thai or Indian variety green chilies cut very fine (or to taste)
pinch of asafoetida powder (hing/ perungayam) (optional)
Optional garnish
a few tbsp of finely cut cilantro leaves (coriander leaves)
In a medium sized bowl
assemble chick pea flour, flax seed meal, salt, finely cut green chilies, salt to taste (not too much since it will be added to the gravy too) , red chili powder if using and mix well. Add finely cut onions and mix again. Then add water a little at a time and mix into the flour making a thick batter that is of dropping consistency. If you are familiar with bajji batter, this one is of the same consistency. If in doubt err on the side of a thicker batter, it can be corrected more easily if required. Add pinch of soda and mix well.
Heat an aebleskiver pan (appa kaarai) and add a couple of drops of oil in each mold. For a picture of the appa kaarai check out
this link
. Spoon mixture into each mold, cover with a lid and cook on low to medium low heat until the lower side becomes an even golden color, flip over and cook the other side until it turns golden too. Remove and keep aside, continue with the rest of the batter in the same manner in batches.
The copyright of this content belongs to
Veginspirations.com
For the gravy
Add water to chick pea flour and mix well making sure there are no lumps formed. Whisk together yogurt and water, then add chick pea flour + water mixture and whisk well again until well mixed. Add all the spices and place on low to medium low heat. When the mixture heats through add the dumplings to the gravy and allow to simmer for a few minutes (I usually simmer for around 3 to 4 minutes). At this point if it thickens too much add a little more water to achieve desired consistency and simmer for another couple of minutes.
In a small pan heat oil, add cumin seeds to it. When cumin seeds begin to sizzle add finely cut green chilies. Stir a couple of times, then add asafoetida powder and stir once or twice. Pour entire seasoning and add to the simmering gravy.
Remove from heat and garnish with cilantro if using and serve hot with plain steamed rice, or rotis/ parathas of choice.