You know how there are days when all you want is some comfort food, something simple, nutritious and light. A lot of times for me, those days automatically bring tomato rasam to mind. Rasam as I mentioned in
my last post
is a light soup like preparation made with tamarind juice, cooked lentils and flavored with spices like cumin seeds and pepper. It is served on a bed of plain steamed rice with a curry on the side. It is usually served as the second course in the traditional south Indian meal.
Not that tomato rasam is the only kind of rasam, there are many many varieties of rasam made in different homes. From
pineapple rasam
to
lemon rasam
to jeera (cumin) rasam to tomato rasam, each rasam has slightly different ingredients and spices and very different tastes, yet each one is delicious in its own way. That said, I have to admit that I am partial to tomato rasam and it has a special place in my heart. I love the slightly sweet, slightly tart and slightly spicy combination of tomato rasam and I could have and do have several cups of this as a soup when I make it, no rice or curry required :) So if you have never tried rasam, this might be a good one to start with, since it is quick and simple and if you make rasam often give this version a try and tell me what you think :)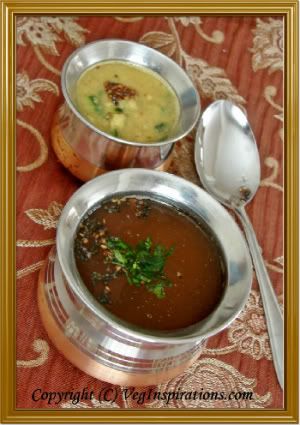 Click here for a printable view of this recipe
Ingredients and Method to make Tomato Rasam
1/4 cup split pigeon peas (tur dhal/ tuvaram parappu) soaked in sufficient water for 30 minutes
3 to 4 thumb sized tamarind (imli/puli) soaked in a small bowl with water for 15 to 20 minutes
salt to taste
2 heaped tsp
rasam powder
(or to taste)
2 large tomatoes cut fine (tamatar/ thakkali)
1 tbsp grated jaggery (see notes)(gud/vellam)
Seasoning
1 tbsp clarified butter (ghee/nei) ( or oil for a vegan version)
1 tsp mustard seeds (rai/sarson/kadagu)
3/4 tsp cumin seeds (jeera/jeeragam)
2 to 3 tbsp finely cut cilantro(coriander leaves/ hara dhania/ kothamalli) for garnish
Cook the soaked lentils
in the pressure cooker until soft and mushy. (you can use the stove top for this too, it just takes a little longer) remove when done, mash it with the back of a spatula when still warm and keep aside.
Press the soaked tamarind to extract juice and strain the juice into a small pan. Fill the bowl holding tamarind with water again and press the tamarind to extract juice from it yet another time. Repeat one more time, then discard tamarind pulp and seeds.
Place the pan on heat, add salt to taste and rasam powder and allow to come to a boil. When it begins to boil add finely cut tomatoes and lower heat to medium or medium low and allow to simmer for a few minutes until tamarind loses its raw taste and tomatoes are cooked and soft.
The copyright of this content belongs to
Veginspirations.com
Add mashed lentils, water as required to achieve desired consistency, grated jaggery if using and allow to simmer for a few minutes until the flavors mingle.
In another small pan, heat clarified butter or oil, add mustard seeds to it. When the seeds begin to splutter add cumin seeds, when the cumin seeds sizzle remove and pour entire seasoning on the rasam.
Remove from heat, garnish with cilantro and serve hot over a bed of plain steamed rice and a kootu or curry on the side.
Notes:
Using jaggery enhances the sweetness of the tomatoes and brings out the contrast between the sweet, tart and spicy flavors in the rasam. If not available it can be skipped, but adding it does make a difference and enhances the taste of the rasam.