As mentioned in
this post
, rasam is a soup like preparation originating in southern India and is made with tamarind juice and spices like cumin and pepper and is served over a bed of rice. It is a very light dish and it can be had as a soup too. In a traditional south Indian meal, rasam is served as the second course and usually follows sambar or some equivalent dish. Since both pepper and cumin help in aiding digestion and help in improving intestinal health, rasam is considered ideal food when recovering from any kind of illness.
Usually the rasam powder I use is the store bought kind. But when I ran out of it some time back, I decided to try making my own powder. I had my mother in law's recipe for rasam powder noted down in my book and a quick check showed me that I had all the ingredients for the powder in my pantry. This powder did not really take very long to make, which was somewhat of a surprise and I got a fair quantity with these proportions.
The very same day that I made this powder, I made tomato rasam (that will be my next post) All I can say is, wow what a difference !! Such a small change and such a huge difference in taste, totally worth the effort of making this powder definitely :) After tasting rasam with this powder, I doubt I will be able to go back to using store bought rasam powder :)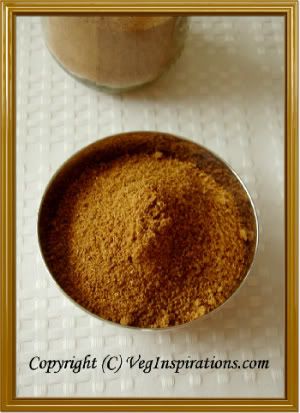 Click here for a printable view of this recipe
Ingredients and Method to make Rasam Powder
1 cup coriander seeds (dhania/kothamalli virai)
1/2 cup whole black pepper (milagu)
1/2 cup cumin seeds (jeera)
1/4 cup split pigeon peas (tur dhal/ tuvaram parappu)
12 to 14 dry red chilies (or to taste)
Dry roast
the first three ingredients on medium heat until aromatic. Remove and keep aside to cool.
Dry roast the lentils until aromatic and slightly reddish. Remove and keep aside to cool.
Dry roast the dry red chilies for just a few seconds. Remove and keep aside to cool.
When cool, powder all the ingredients together in a blender/ grinder until it turns into a fine powder.
The copyright of this content belongs to
Veginspirations.com
Store in an airtight container and use as required in rasam.
This powder has a shelf life of months without refrigeration.