Here's what I like most about soups, if made right, a bowl of soup can really pack a nutritional wallop. Soups are a great way to combine a variety of vegetables and some protein from lentils and such. Particularly mixed bean soups are easily one of my favorite kind of soups. I love the combination of different beans and vegetables in each spoonful of the soup :) The most common mixed bean soups I come across online are ones seasoned with any combination of parsley, oregano, basil.
My version of this soup is a little different in terms of flavor. Adding garam masala gives this soup a decidedly Indian flavor and the little bit of yogurt adds a hint of creaminess, nothing too rich or too overwhelming, just a tad bit of creaminess. As I mentioned in the notes section, if you want to make a vegan version of this soup you can entirely skip the yogurt or substitute yogurt with a small quantity of soy yogurt or coconut milk if you want a little creaminess. This soup can easily double up as a curry and be served over a bed of plain steamed rice or as something to go with phulkas/ rotis.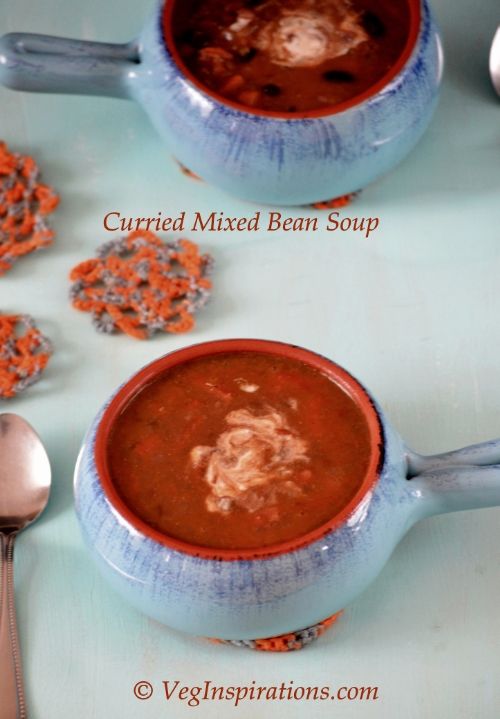 Click here for a printable view of this recipe
Ingredients and Method to make Curried Mixed Bean Soup
1 1/4 cup of mixed beans ( I used a combination of northern beans, black eyed peas (chawli), adzuki beans(red chori) and pinto beans) (see notes)
1 large red onion (pyaaz/vengayam)cut fine
3 medium tomatoes (tamatar/thakkalli) cut fine
3 carrots (gajar) cut into 1/4 inch pieces
1 zucchini peeled and cut into 1/4 inch pieces (optional)
1 green bell pepper (capsicum/simla mirch/koda molagai) deseeded and cut into 1/4 inch pieces
1 Tbsp oil
salt to taste
1/2 tsp cumin powder (jeera pwd/ jeeragam podi)
3/4 tsp red chili powder (or to taste) (can be substituted with cayenne to taste)
3/4 tsp garam masala (or to taste) (can be substituted with any other curry powder) My recipe for homemade garam masala powder can be found
here
1/2 cup whisked plain yogurt (optional see notes)
Soak mixed beans
in sufficient water for 6 to 8 hours with a pinch of baking soda (the soda is optional) Drain, fill with fresh water and pressure cook or cook on the stove top until the beans are soft.
Heat oil in a large heavy bottomed pan, add onions and saute until the onions are transparent. Add tomatoes and stir until the tomatoes turn soft and mushy. Add carrots, bell peppers, zucchini, water as required and all the spices and allow to cook until the vegetables are done.
Add the cooked beans, adjust salt and water as required and simmer for a few minutes for the flavors to mingle.
Remove from heat, add whisked yogurt (if using) and mix well. Serve hot with bread of choice.
The copyright of this content belongs to
Veginspirations.com
This soup can easily double up as a curry if you want to make it to go with some plain steamed rice or some
phulkas
/
rotis
Notes:
This soup tasted good both with and without the yogurt added in the end. So if you would rather make this a vegan version, you can skip the yogurt entirely or add a touch of soy yogurt or coconut milk for that creamy texture to the soup if you wish. I added yogurt because we enjoy the touch of creaminess that it lends to the soup and I was out of coconut milk this time :)
Any combination of beans can be used for this recipe. I have used any combination of Black beans, red kidney beans (rajma), black eyed peas (chawli/lobia), adzuki beans (red chori) in addition to the ones mentioned above and that works well too :)