Before starting with this post, a quick update. Recently I made
this saffron kulfi (Indian Ice cream)
in the slow cooker. A few readers had been asking for slow cooker directions to the kulfi and I decided to update the post with the slow cooker directions. As with any other slow cooker dessert, this kulfi too turned out to be effortless and super simple. It hardly needed any attention at all, leaving me free to be able to do other stuff in that time:) Also for those of you interested, I have added new pictures too, so if you would like to take a quick peek, here is
the link
:)
Moving on, remember
this quinoa lentil dosai
that I posted recently. When I made this dosai the first time, I had some leftover batter. Instead of making some more dosai with it, I thought of making little bite sized snacks with it, something similar to paniyaram. To know more about paniyaram read
this post
. This one is not exactly like the traditional paniyaram in the sense I skipped adding any seasoning and also added more veggies than I've seen used in the traditional paniyaram. These bite sized snacks were really fun to make and even more fun to eat. It was even more satisfying because this snack combines quinoa, lentils, flax and veggies, lots of nutrition and very little guilt :)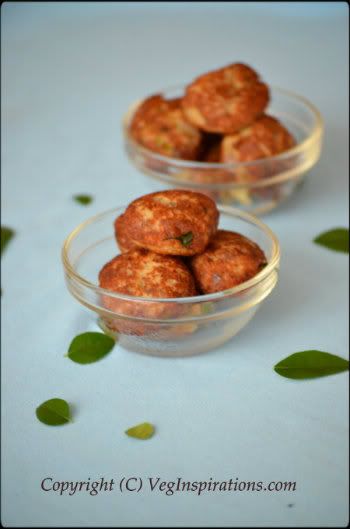 Click here for a printable view of this recipe
Ingredients and Method
to make Quinoa lentil bites
1 3/4 cup quinoa dosai batter from
here
1 small red onion cut very fine
1 medium sized green bell pepper (capsicum/koda molagai) deseeded and cut fine
salt to taste
1/4 tsp baking soda
1/4 tsp red chili powder (or to taste)
1 stalk curry leaves broken into small pieces
2 heaped tbsp flax seed meal ( powdered flax seeds/ alsi / ali virai)
4 heaped tbsp rice flour or as needed to thicken batter (see notes)
2 to 3 tbsp fresh/ frozen grated coconut (optional) (if frozen thaw to room temperature)
a few drops of oil to shallow fry the bites
Add the quinoa dosai batter to a large bowl. Add onion, bell pepper, salt to taste ( the batter already contains some salt so not too much), red chili powder, curry leaves broken into small pieces and mix well.
The copyright of this content belongs to
Veginspirations.com
Add to this flax seed meal and mix well. Then if the batter is still a bit thin add rice flour 1 tbsp at a time and mix well, until the batter achieves dropping consistency. Add fresh/ frozen grated coconut to this batter and mix well.
Finally just before making add baking soda and mix well.
Heat aebleskivar pan (appa kaarai) on medium to medium low heat. Add a few drops of oil in each mold. Spoon a little batter into each mold, cover with a lid and cook until the lower side turns golden brown. Keep the heat on low to medium low the entire time, otherwise the outside of the paniyaram gets dark while the inside remains uncooked.
Flip over and cook the other side until it is cooked (turns a light creamy/ golden). Remove and serve hot with some ketchup or
chutney of choice
.
Leftover batter can be refrigerated for a day and used the next day.
Yielded approx 28 bites
Notes:
The rice flour is added to thicken the batter a little more. So how much rice flour is needed will depend on the consistency of the batter. Add just one tbsp of flour at a time and mix well. If the batter is dropping consistency, it is ready and does not need more flour. The first time I made this I needed 4 tbsp, subsequent times, I needed only about 2 tbsp.