Some days all I want for dinner is some kind of comfort food that I can rustle up in under thirty to forty minutes. Usually these are the days that I turn to items like phulkas with some kind of gravy curry or some kind of dhal. Preferably the latter, because in my book nothing says comfort food like a simple bowl of dhal. Anytime I can combine dhal with some kind of green veggie, that's another plus in my book :) Earlier I had posted
another version of spinach with mung bean dhal
, this time I made dhal with a combination of mung bean lentil, split red lentils and spinach. As I normally do for dhals, I kept the seasoning and flavoring very simple, nothing too overwhelming. This nutritious and low fat dhal is perfect for a simple meal, and tastes very good whether it is paired with phulkas/ rotis or plain steamed rice.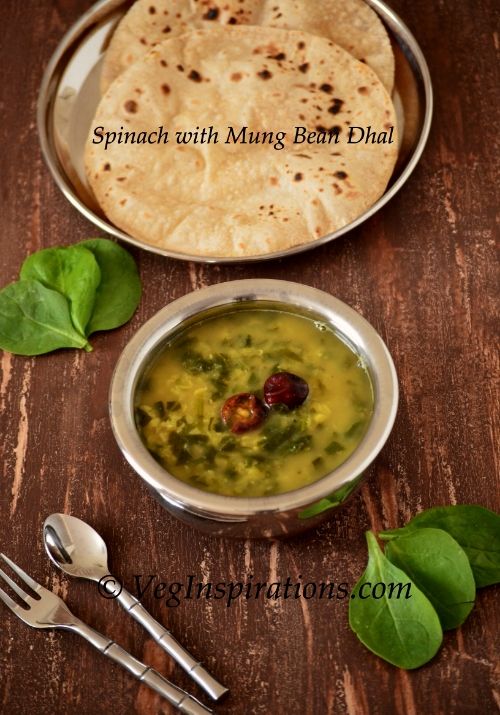 Before moving on to the recipe, the tip :) I am not big on using canned food in my cooking, but sometimes when I need stuff like coconut milk in my cooking I end up using the canned variety. The issue for me often is how to store the rest of the coconut milk so that it does not spoil until I use it again. I rarely use coconut milk and once opened, the contents of the can need to be used in a few days or it spoils. I came across a tip sometime back ( not sure where since I did not book mark the tip) that suggested that coconut milk can be frozen in an ice cube tray and used as required. I decided to give it a try and sure enough this is a very convenient way to freeze balance of coconut milk or even canned tomato paste or anything that can freeze well. The fringe benefit is that you can use just as many as you want when you cook and the balance remains frozen until the next use.
Here is my packet ready to be refrozen.......I usually write down on the bag itself how many tbsp are in each cube, it makes it easier to remove just as many cubes as I need when I use it a few weeks later :)
Click here for a printable view of this recipe
Ingredients and Method to make Spinach dhal
3/4 cup split mung bean lentil (mung dhal) soaked in sufficient water for at least 30 minutes
1/2 cup split red lentils (masoor dhal)
2 packed cups baby spinach (Palak) cut fine
1/4 tsp turmeric powder
1/2 tsp red chili powder
salt to taste
1/4 tsp dry mango powder (amchur )
1 tbsp of lemon juice (or to taste) (see notes)
Generous handful cilantro( coriander leaves) cut fine for garnish
Seasoning
1 tsp oil
3/4 tsp cumin seeds
3 to 4 green chilies slit lengthwise
1/2 tsp garam masala (or to taste) (can be substituted with any other curry powder)
To make your own garam masala, check out
this post
Soak the mung bean
lentil in sufficient water for at least 30 minutes. Add split red lentils to the same container and swirl with hand and drain water. Fill with fresh water and repeat process. Place both the lentils in a medium/ large heavy bottomed pan along with sufficient water and place on heat.
Stir frequently and allow to cook until both the lentils are soft. You can use the pressure cooker for this if you want, just make sure it does not over cook, so that the lentils retain a little bit of their shape.
When the lentils are almost cooked, add finely chopped spinach, salt to taste, red chili powder, turmeric powder and dry mango powder, water as needed and allow to simmer for a couple more minutes until the spinach is cooked.
The copyright of this content belongs to
Veginspirations.com
In a small pan, add oil and place on heat. Add cumin seeds to it, when the seeds sizzle add green chilies and when the chilies splutter a little (watch out..... some times the chilies can splatter so do keep a lid/ splatter screen handy) , add garam masala and stir a couple of time. Pour the entire seasoning on the dhal and mix well. Allow the dhal to simmer another minute or two for the flavors to mingle.
Remove from heat. Garnish with lemon juice and cilantro leaves and serve hot as a side dish to phulkas/ rotis or on a bed of plain steamed rice with some curry on the side.
Notes:
If you use store bought lemon juice...you know the type that comes in that cute yellow container, you may need to use a little more of it. I juiced my lemon at home and find that fresh lemon juice tends to be a little more tart so a little goes a long way.