Recently my father in law sent me some amazing pictures by email. Here is one of them, can you guess what this is?.......................................
If you guessed onions you are absolutely correct. These are some of the pictures of the onion festival held in New Delhi, India. What amazing creativity right? Here are a couple more that I really loved.....
Cool huh? I was so very impressed when I saw these pictures. What creativity to be able to transform something as mundane as onions into such cute works of art.
Moving on, it has been a while since I baked and with the cold weather and the festive season, I just could not resist it any longer. Since I haven't baked scones in a long long while I decided to make a batch of them. I got the idea of using sour cream in scones from
this recipe
. I tweaked the recipe slightly,skipped the egg completely and the end result were yummy scones with a crunchy exterior and a soft interior that I enjoyed a great deal. Perfect for a weekend or holiday breakfast :)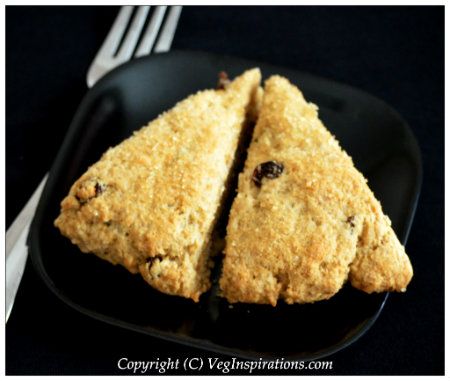 Click here for a printable view of this recipe
Ingredients and Method to make whole wheat scones
1 cup unbleached all purpose flour (maida)
1 cup whole wheat flour (atta)
1/3 cup sugar
2 tsp baking powder
1/2 tsp baking soda
1/4 tsp salt
1/2 tsp cinnamon powder
1/3 cup raisins
4 tbsp cold unsalted butter cut into small pieces
1/3 cup sour cream
1/4 cup plain yogurt
Extra 2 tbsp granulated sugar to sprinkle on top
Pre heat oven to 400 deg F. Line a tray / baking sheet with parchment paper and keep aside.
In a large bowl mix together the first eight ingredients well.
Add cold butter cut into small pieces and mix in. Add sour cream and yogurt and mix in.
The copyright of this content belongs to
Veginspirations.com
Use your fingers to knead until the mixture holds together. Do not overwork the dough. Roll or pat into an 1/2 inch thick circle.
Cut into wedges ( I got about 10 wedges). Place each wedge a little apart on the pre lined tray. Sprinkle with granulated sugar and place in the oven.
Bake for 15 minutes or until scones turn evenly golden. Remove and cool slightly.
Serve warm with preserves, jam or butter on the side.