Sheera a simple sweet made with semolina, sugar, milk, saffron and cardamom. It is the Maharashtrian equivalent to the kesari made very similarly in Tamil cuisine, the kesaribath made in Kannada cuisine and the suji ka halwa made in north Indian cuisine. The difference I have observed is mainly in the quantities of sugar and clarified butter and the garnish. Kesari and Kesaribath both tend to be far more sweeter and also tends to have copious amounts of clarified butter in it. I have never tasted suji ka halwa but it seems that it too has more quantity of sugar and clarified butter in it when compared to the sheera.
Sheera remains a favorite of mine, not only because it is mildly sweet, tastes yum and is very simple to make, but also because the taste of sheera can be easily varied by making variations with different kind of fruits like banana and pineapple. You can find my earlier version of low fat pineapple sheera made with agave
here
. One of the changes I have made in the process of making sheera is that unlike earlier when I used to melt the sugar in milk and water first, then add the roasted semolina, nowadays I mix everything together and then place on heat. I find that this eliminates a great deal of the splattering that the earlier step used to cause and my hands and my stove top both thank me for it:)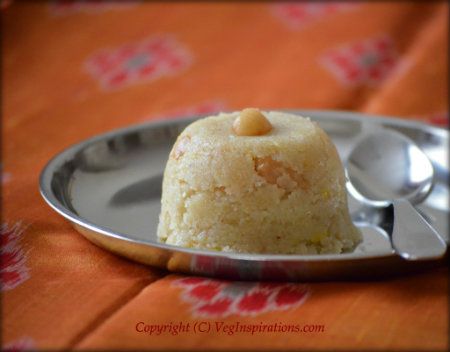 Click here for a printable view of this recipe
Ingredients and Method to make Sheera
1 cup medium rava (suji/semolina)
3 tbsp clarified butter + additional 2 tbsp clarified butter (ghee/nei)
3/4th of a cup sugar
5 cardamom seed powdered fine
1 cup water
1 cup milk
2 pinches of good quality saffron
2 tbsp broken cashew nuts
Heat 3 tbsp clarified butter (ghee/nei) in a heavy bottomed pan on low to medium low heat. Add semolina to it and roast it on low heat until the semolina turns creamy reddish and aromatic. Take your time with this step, stir frequently so that semolina is evenly roasted and make sure it does not burn. Remove from heat.
Add sugar to it in the same pan and mix well, keep aside.
Using a microwave or on the stove top, heat 1 cup water + 1 cup milk until hot, not boiling hot. Pour this water + milk on the roasted rava, a little at a time and mix well. Add saffron to this and mix well.
The copyright of this content belongs to
Veginspirations.com
Place on low to medium low heat. When the mixture begins to heat, stir frequently until it thickens and starts to leave the sides of the pan. Keep a lid handy in case it splatters a little (it usually doesn't if the heat is low to medium low) Add cardamom seed powder and mix well. Remove from heat.
In a small pan heat balance of the clarified butter and add cashews to it and stir until cashews turn an even golden brown. Pour the entire clarified butter + roasted cashews on the sheera and mix well.
Serve sheera warm.