When I was in school I do not remember ever being very impressed with spinach. Its not that I would never eat it, nor that I hated it, just that I never really loved it as I did some of the other veggies my mother prepared at home. I guess I was just indifferent to it. Now though, I have a new appreciation and liking for this super healthy green and never tire of trying it out in a variety of dishes. From
raita
to
dhals
to
adai
/
dosai
and
curries
, I have used spinach in pretty much everything and have enjoyed it so much in all the different forms:)
This time I made thogayal, a kind of chutney from south India with spinach. Earlier I had posted thogayal made with
zucchini
and one with
onion
both of which remain favorites in my home. But this one with spinach is a little extra special. It is very flavorful and versatile. I have used it as a traditional chutney along with dosai/idli , to mix with rice and create an instant flavored rice and as a dip for veggies and it tasted good every single time :) If spinach is something that you like or like me have developed a new appreciation for, this simple spinach chutney may be for you.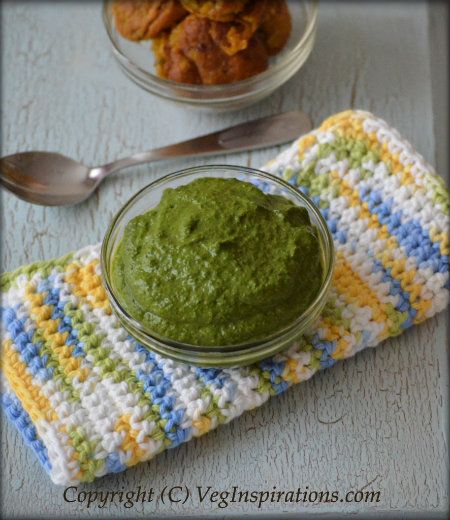 t
Click here for a printable view of this recipe
Ingredients and Method to make Spinach chutney (thogayal)
4 packed cups tender spinach leaves
(or baby spinach) (palak) rinsed and drained
4 tbsp fresh grated coconut (or frozen) (if using frozen thaw to room temperature)
1 tbsp coconut oil (can be substituted with any other oil)
1 tsp mustard seeds
1 tsp split black gram lentil (udad dhal)
one small pinch asafoetida (hing/ perungayam)
3 dry red chilies (or to taste)
salt to taste
Heat oil on medium heat in a heavy bottomed pan, add mustard seeds to it. When the seeds splutter, add black gram lentil and stir until the the lentils turn evenly reddish. Add a pinch of asafoetida powder, and dry red chilies and stir a few times. Add spinach, stir, close the pan with a lid and allow the spinach to cook until soft. If required a few drops of water may be sprinkled to help cook the spinach leaves.
Cool the cooked spinach and puree the entire mixture of cooked spinach and seasoning, along with the grated coconut in the blender until it turns to a smooth paste. Add salt to taste and give it another turn in the blender.
The copyright of this content belongs to
Veginspirations.com
Remove and serve as a dip/ chutney or mix with some plain steamed rice to make an instantly flavored rice.
Refrigerate the unused portion in an airtight container and use within a couple of days for freshest taste.