Chakli, a savory, crunchy, gluten free rice snack from Maharashtrian cuisine is one of my favorite kind of treats. I mean what's not to love, its crunchy, deep fried and yum :) Of course the deep fried part also means that I almost never make it except as a rare treat. Chakli's often remind me of the south Indian
Mullu thenkozhal
which is similar in texture. The process of making it is also similar, but that is where the similarity ends. Where Mullu thenkozhal combines rice flour with chick pea flour, chaklis combine cooked lentils and rice flour for the dough. The flavoring and tastes of both of these snacks are also quite different.
This time as I was making chaklis in batches, I was feeling a little restless while each batch was cooking. So I ended up playing with a few of these and realized chaklis provide a nice way to create some food art. Hmmm.... does this mean I will make it more often so that I can create different kinds of food art with it, which I can later take pictures of and hang around the home ? Not a chance :) But just this once, it was fun to manipulate small pieces of chakli into different shapes:)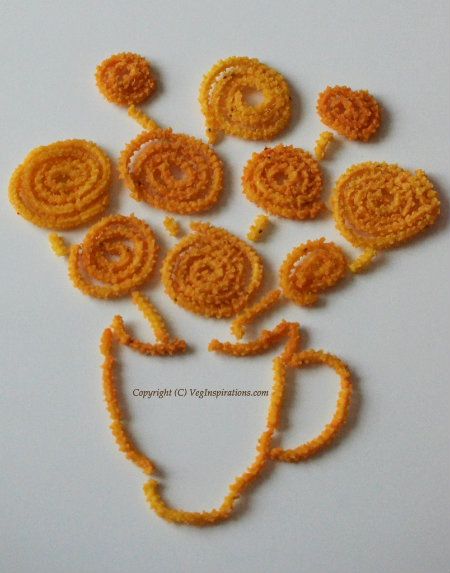 Click here for a printable view of this recipe
Ingredients and Method to make Chakli
1/4 cup split mung bean lentil (mung dhal) rinsed, drained and soaked in 1/2 cup of water for 30 minutes
2 cups rice flour
1/4 tsp turmeric powder
3/4 tsp chili powder (or to taste)
salt to taste
1/2 tsp carom seeds (ajwain/ omam)
3 tsp oil
water as needed
oil as needed to deep fry this snack
Pressure cook the soaked lentils in the water it was soaked in, until it is soft and mushy. I usually keep it for about 4 whistles in my pressure cooker to make sure the lentils get good and mushy. After the pressure subsides, remove lentils and mash, this yielded me 1/2 heaped cup mung paste.
The copyright of this content belongs to
Veginspirations.com
Place the mashed lentils in a large bowl. Add rice flour and all the spices, salt and knead lightly. Add oil and knead some more. Finally add water very little at a time if needed and knead until the dough is soft.
Heat oil as needed for frying on medium heat.
Use a press such as
this one
with a star shaped disc to make this snack. Take a small quantity of the dough, place it in the press and press out into a spiral shape onto a kitchen tissue or directly into the oil. I prefer to press it out onto the kitchen tissue and then slide each one gently into the oil. Flip over once or twice and
remove when the chakli
becomes golden brown. Place on kitchen tissue to remove excess oil.
Cool and store in an air tight container. Enjoy this snack with tea/ coffee or as an anytime snack.