Sakarai pongal or sweet pongal is a sweet that is made in south Indian cuisine. It is a preparation made with rice and jaggery, flavored with cardamom and garnished with cashew nuts. Jaggery as I explained in
this post
is a slightly less processed form of sweetener that manages to retain a lot more minerals and is said to be healthier than sugar because of these minerals. It is commonly used in Indian cooking.
There are many versions of pongal made with rice and mung lentils, I used to make mine that way too. Until I tasted my mother in laws version, she makes hers with only rice and I like it so much I started making mine that way too :) Last week I decided to try pongal with oats instead of rice and I fell in love with it :) It was so good that I think I am going to make this version all the time. It is quicker to make, just as delicious and as an added bonus, healthier too. What's not to love ? If you plan to indulge your sweet tooth with something quick and simple, this just might be the sweet for you :)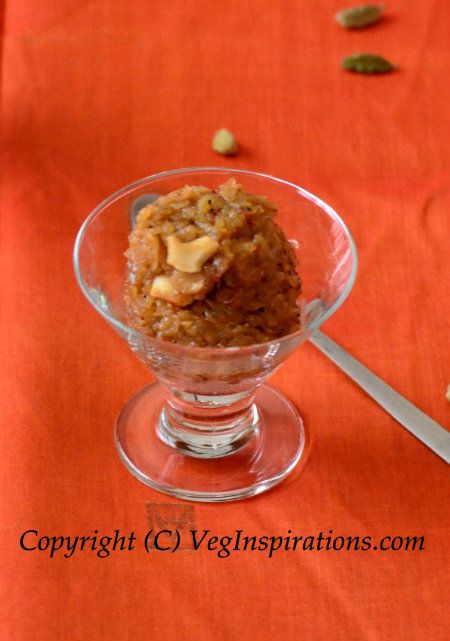 Click here for a printable view of this recipe
Ingredients and Method to make Oats Sweet Pongal
1 cup rolled oats
1 tbsp + 1tsp clarified butter (ghee/nei)
1/2 cup grated jaggery
2 tbsp broken cashew nuts
5 cardamom seeds powdered fine
additional 2 to 3 tsp clarified butter (ghee/nei) (optional if you want a little richer taste)
In a heavy bottomed pan
heat 1 tsp clarified butter and roast the cashews in it until it is light golden color. Remove the cashews and keep aside.
In the same pan heat 1 tbsp clarified butter and roast the rolled oats in it until it turns lightly creamy and emits an aroma. Remove from heat and keep aside.
Powder cardamom seeds and keep aside.
In the same pan, add 1 and 1/4 cup of water and jaggery and place on heat. When the jaggery melts and the water begins to boil add the roasted oats and stir and cook on low to medium low heat until the mixture is thick and the mixture begins to start to leave the sides of the pan. If you plan to use the additional 2 to 3 tsp of clarified butter (ghee) to give the dessert additional rich taste, add it now. Then add cardamom powder, mix well and remove from heat
The copyright of this content belongs to
Veginspirations.com
Finally garnish with the roasted cashews and serve warm.
This Oats sweet Pongal is off to
Priya's Cooking with oats event
being guest hosted by
Amruta