One of my favorite options for quick weeknight dinners is some form of mixed vegetable rice and a good raita. At least once a week I end up making some kind of mixed rice and raita. If you are unfamiliar with Indian cuisine, Raita is a form of salad made with a variety of vegetables or fruits mixed with yogurt. It is the north Indian cousin to the south Indian pachadi, which is somewhat similar but has different seasoning and a subtly different flavor. It tastes yum when paired with mixed vegetable rice, especially the spicy variety. Check
this link
for some of the other raitas that I have posted in this space.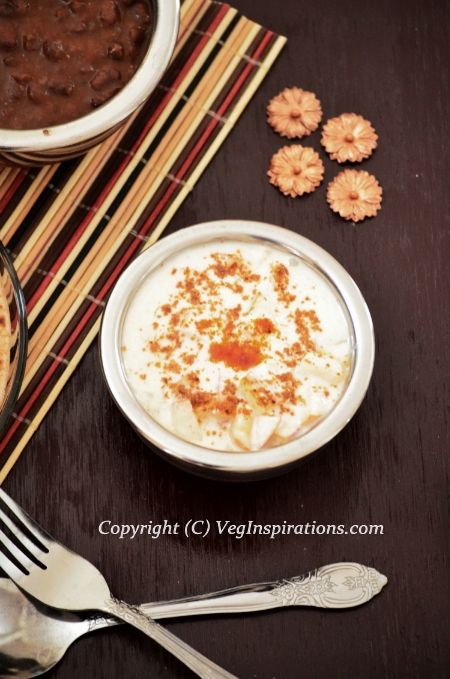 This apple raita is one of my favorite fruit based raitas. It's slightly sweet spicy taste is so yum that I could easily have a full bowl of this raita just on it's own, no need for rice or parathas :) That said, this time I made it to go with
this spinach and black bean rice
and I loved the combination, it just worked so well together. If you like apples, this raita might be something that you will enjoy too, so go ahead and give it a try :)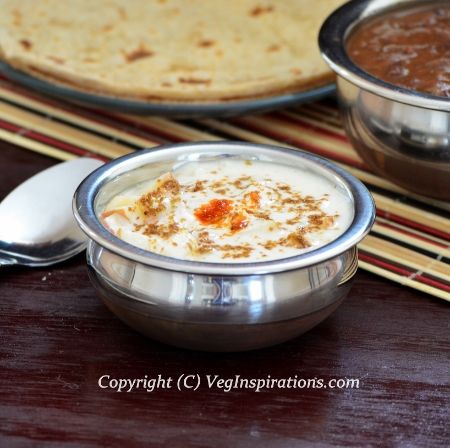 Before I go, here is the picture of yet another sunburst mirror that I made recently. After each project I tell myself I am done, and
am not going to be making any more mirrors, but I just love sunburst mirrors so much that I get tempted to make just one more from time to time:) This one was so quick and easy to make, once I got all the stuff I needed for it, it just took a few hours to make. If you would like to check out more detail on how I made this mirror, check out
this post
on bead creationz.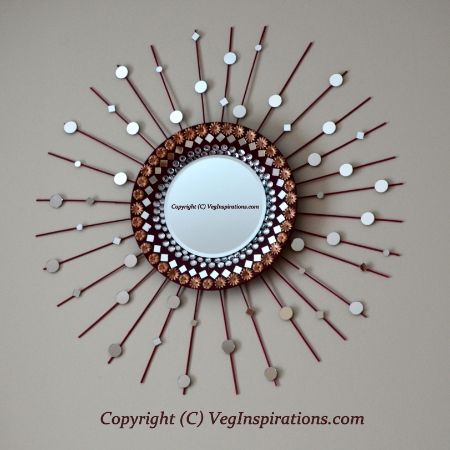 Click here for a printable view of this recipe
Ingredients and Method to make Apple Raita
1 large apple cut into small pieces (yielded approx 1 1/2 cups of cut pieces)
1 1/4 cup plain yogurt (curds/dahi/thayir)
1/2 tsp salt (or to taste)
1 tsp fine sugar
1/2 tsp cumin seeds dry roasted and powdered
1/2 tsp red chili powder (or to taste) (can be substituted with cayenne powder)
In a small pan
, dry roast cumin seeds on low to medium low heat until it emits an aroma. Remove and powder using a spice grinder or a mortar and pestle until fine or slightly coarse.
Whisk plain yogurt until smooth. Add all the spices and sugar to it and mix well.
The copyright of this content belongs to
Veginspirations.com
Add apple pieces to it, chill and serve with some pulao or mixed vegetable rice.
This time I served it with
this spinach with black bean rice
and the combination tasted fantastic. The slightly sweet- spicy taste of this raita complemented the flavors of the rice well :)