One dish meals are indispensable in the weekly menu, especially for rushed weeknight dinners when making a lot of different types of dishes becomes a little too much. And one dish meals that combine veggies and some form of protein are the best kind. Healthy, filling and nutritious, what's not to like about it :) Here is one that I make from time to time, this one combines spinach, tomatoes and black beans. I do not use too many spices or flavoring in this rice, just keep it simple.
Usually I serve this with some kind of raita (a salad made with veggies and yogurt), this time I decided to try an apple raita to go with this rice. And I loved the combination, the spices from the rice were perfectly complemented with the cool, slightly sweetish apple raita.Will post the recipe for the apple raita soon. Of course, this rice works just as well with a curry on the side or
any kind of raita
or even just plain yogurt. So if you are looking for a rice that can be made in a jiffy with very little effort, give this rice a try :)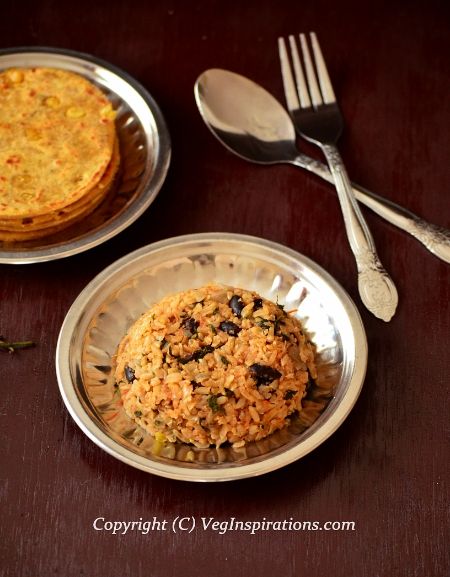 Click here for a printable view of this recipe
Ingredients and Method to make Spinach with Black bean rice
5 Cups cooked brown rice (can be substituted with white rice) (see notes)
1 large red onion cut fine
4 medium tomatoes cut fine
2 packed cups chopped spinach (palak) leaves
1 cup cooked black beans
a sliver ginger, grated very fine or minced
2 cloves of garlic cut very fine
2 tbsp oil
salt to taste
1/2 tsp red chili powder (or to taste)
1/2 tsp garam masala (can be substituted with any other curry powder)
To know how to make your own garam masala check
this post
Prep all the vegetables and rice
.
Heat oil in a large heavy bottomed pan. Add onions and saute until it is translucent. Add garlic and ginger and stir for a minute or so, until the garlic begins to brown slightly. Add tomatoes and stir until tomatoes turn soft and mushy.
Add chopped spinach leaves and stir for a couple of minutes until it wilts. Add all the spices, cooked rice and salt to taste and mix well.
Add cooked black beans and mix again. Adjust salt if required and allow the entire mixture to heat on low to medium low heat for a minute or two.
Remove from heat and serve hot with curry of choice or some raita.
The copyright of this content belongs to
Veginspirations.com
I served this with apple raita (will post the recipe soon) and the combination of spicy rice with a sweetish raita worked perfectly :)
Notes
For the brown rice, I soaked 1 and 1/2 cups of brown basmati rice in 2 and 1/4 cups of water for about 30 minutes, then pressure cooked it until done. It yielded me approx 5 cups of cooked rice. You can easily use any kind of cooked rice, white or brown or even leftover rice in this recipe. If you use white rice, I would suggest you make sure it is well cooled before using in this recipe, as white rice breaks a bit more easily than brown rice.