When visiting Indian restaurants, especially ones that serve north Indian cuisine, one item is almost invariably found in their menu................Paneer masala ! Whether it is named paneer masala, paneer butter masala, or shahi paneer, some version of this popular curry is offered in most Indian restaurants. There seem to be many, many versions of this curry, it seems like every one has their own version of making this curry. My version omits one item that I commonly find used in this curry....cream, and honestly I never miss it. The cashews give this curry such a creamy texture that I do not feel the need to add cream at all.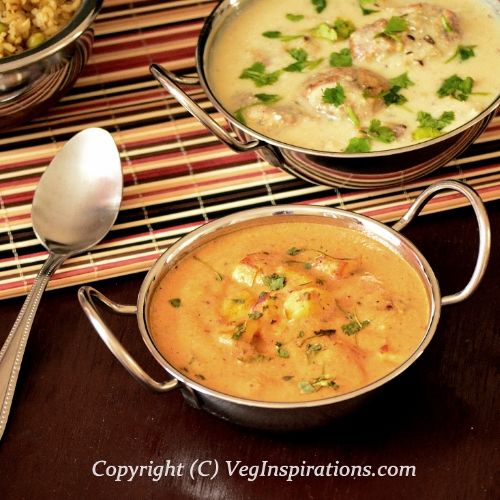 I know the ingredients for this curry look long and daunting, but most of the items used in this curry are common spices that are stocked in the pantry. This is a very easy peasy recipe, nothing complicated about it and the taste is awesome. Ideally this curry tastes fantastic with served with Indian flat bread like naan or tandoori roti, but it can just as easily be served with plain roti, or phulkas/ chapathis or even plain steamed rice. I was hoping to get better pictures for this curry, but I was having not a great day picture wise :-( So for now I am posting this recipe with my current set of pictures and hope to update the pics at a later date. If your weekend menu includes paneer, give this recipe a try and as always, let me know what you think about it :)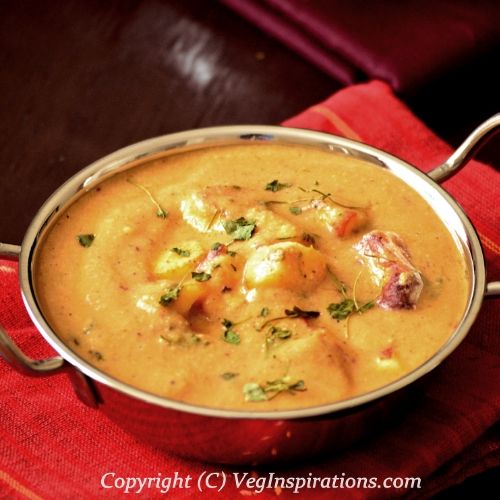 Click here for a printable view of this recipe
Ingredients and Method to make Paneer Masala
2 1/2 cups of cubed paneer
(To make your own paneer check out
this post with step by step pictures
)
1 to 2 tbsp oil to shallow fry the paneer
1 tsp kasuri methi (dried fenugreek leaves)
salt to taste
1 tsp sugar
1/2 tsp red chili powder (or to taste) (can be substituted with cayenne powder)
1/4 cup whole milk
For the masala/ gravy
1 large red onion cut fine
2 medium tomatoes cut fine
a thin sliver of ginger chopped into small pieces
1 clove garlic peeled and cut into small pieces
2 tbsp oil/ butter/ clarified butter(ghee/nei)
2 whole dry red chilies
2 cloves
3 small green cardamoms (elaichi)
1 small (1 inch) piece cinnamon
10 whole black peppercorns (miri/milagu)
1/2 tsp coriander seeds (dhania/ kothamalli virai)
1/4 cup cashewnuts broken into small pieces
Shallow fry
the paneer cubes in 1 to 2 tbsp of oil until it is slightly golden/ creamy golden and keep aside.
For the masala/ gravy
Heat oil/ butter/ clarified butter in a large heavy bottomed pan, add onions and saute until onions turn transparent. Add ginger and garlic and stir a few times.
Add whole dry red chilies, cloves, cardamom, cinnamon, whole black peppercorns and coriander seeds (that is all the whole spices) and stir a few times.
Add tomatoes and cook until tomatoes turn soft and mushy. Remove from heat and keep aside to cool a little.
Puree this entire mixture along with 1/4 cup of cashews until smooth, adding a little water if required.
The copyright of this content belongs to
Veginspirations.com
Transfer this gravy back to the pan and place on heat. Add shallow fried paneer pieces to the gravy, add salt to taste, sugar, kasuri methi, chili powder (if using), water if required to achieve desired consistency and simmer on low heat for the flavors to mingle.
Finally add milk, mix well, allow the curry to simmer for another minute or so on low heat, then remove.
Serve hot with any kind of Indian flat bread like naan/ tandoori roti/
roti
or even
phulkas
/
chapathis
. Or this curry could be served with some plain steamed rice/ or
jeera rice