Carrot cakes are my favorite kind of cake, and for a while now I have been wanting to make a carrot cake. I have some recipes that I have book marked and some ideas I want to try, yet somehow making the carrot cake seems to never quite happen. This week when I decided to make muffins with oat bran, I decided to add some carrots and raisins to the muffins. I thought since I am not getting the chance and time to make the cake, and I was anyway planning to make some healthy breakfast kind of muffins, I might as well incorporate the flavors of a carrot cake that would at least partially satisfy my carrot cake cravings :)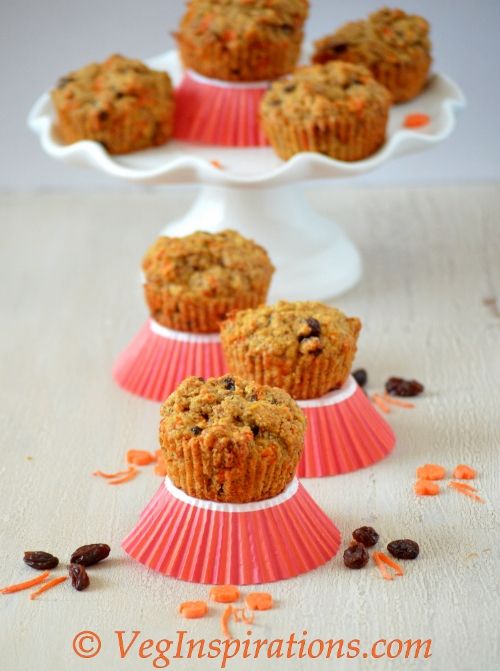 Now here is the fun thing about these muffins, when you taste them, you would never suspect that these are egg free, butter free and filled with the goodness of whole wheat and oat bran. They taste pretty delicious. These are also great for breakfast or as a snack on the go, they are filled with both nutrition and taste. So give these a try and do let me know what you think of them :)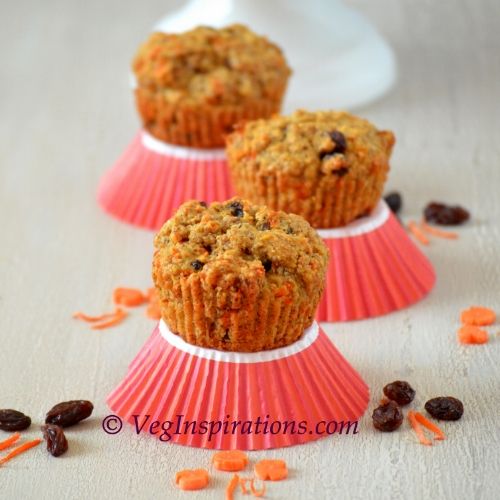 Click here for a printable view of this recipe
Ingredients and Method to make Carrot Raisin Muffins
1 cup whole wheat flour (atta)
1 cup oat bran (see notes)
1/4 cup all purpose flour (maida)
1 and 1/2 tsp baking powder
1/2 tsp baking soda
1/2 tsp salt
1 tsp ground cinnamon (cinnamon powder)
1/2 cup sugar
1 cup dark raisins
1 and 1/2 cups grated carrots (I used about 4 medium sized carrots for this)
1/2 cup oil (I used almond oil)
1/2 cup plain yogurt (Curds/ dahi)
2 tbsp flax meal ( powdered flax seeds/ alsi/ ali virai) + 6 tbsp water
Pre heat oven
to 350 deg F. Line a muffin pan with liners and keep aside.
In a large bowl, mix together all the flours, salt, baking powder, baking soda and cinnamon and mix well.
Mix flax meal with water and whisk well until it begins to get gelatinous and keep aside.
Add sugar, dark raisins and grated carrots to the flour mix and mix well.
Add flax + water, mix into the flour mix. Add yogurt and mix slowly into the flour mixture. Finally add oil and mix slowly into the flour mixture.
The copyright of this content belongs to
Veginspirations.com
Spoon the mixture a little at a time into the pre lined muffins cups, until it is about 2/3 cup full. Place in pre heated oven and bake for about 17 to 20 mins or until a toothpick or cake tester inserted in the center comes out clean. Remove from the oven, cool a little and enjoy. Store the balance in an airtight container and enjoy within the next few days.
This quantity yielded me approximately 12 standard size muffins + 12 mini muffins (see notes).
Notes
If you do not have oat bran, you can also substitute it with equal quantity of whole wheat flour.
If you want to bake these as mini muffins, the baking time would be much less. It would take approx between 12 to 15 minutes, so do keep an eye on the muffins and check by inserting a toothpick or cake tester to see if it comes out clean a bit early.