Some of you may be surprised to see a coffee flavored frozen treat in this space, long time readers of this blog know that I am such an ardent tea lover that I actually have set a
tradition
of starting each year with a post in this space on tea rather than sweets and desserts as my friends normally do :) That said I do not hate coffee, I occasionally enjoy a hot or cold cup of coffee, especially when I travel.
My in laws are visiting us right now and seem to enjoy frozen yogurt quite a bit and love coffee as much as I love tea. I thought a coffee flavored frozen yogurt may be the perfect kind of treat for them. I just went with my instincts in terms of proportions and this frozen yogurt turned out delicious. Perfect treat for the hot summer weather we are having these days and yes, my in laws are enjoying this frozen yogurt quite a bit too:)
One quick update before I go, a lot of you on facebook are getting my updates on the older posts that are getting a new look with updated pics. But for the email subscribers, here is a list of a few of my older posts that have been updated recently with better pictures :
Mango Frozen Yogurt
Simple 2 ingredient Nutella Ice cream
Besan Kaju Burfi ( Indian fudge made with chick pea flour and cashewnuts)
Do take a peek at these and let me know what you think :)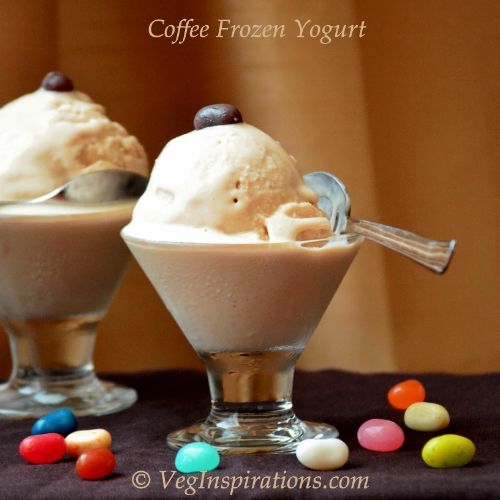 Click here for a printable view of this recipe
Ingredients and Method to make coffee frozen yogurt
1/2 cup
hot almost boiling water
2 slightly rounded tsp of instant coffee ( I used folgers)
3 cups plain greek yogurt (non fat variety is fine) (see notes)
1 cup light cream
1 cup sugar
Mix the instant coffee with the hot water and keep aside to cool to room temperature.
The copyright of this content belongs to
Veginspirations.com
Whisk together greek yogurt, light cream and sugar until well mixed. Add the cooled instant coffee mix and mix well. Chill this mixture in the refrigerator for a couple of hours and churn in the ice cream maker as per manufacturers instructions. I usually churn for about 25 minutes to 30 minutes. Remove, freeze and enjoy.
Notes
If you do not get greek yogurt in your area, then you can make your own. Greek yogurt is just regular yogurt that has been strained. Line a colander with a muslin cloth, place regular yogurt in it and let it drain.(just as you would for making shrikhand if you have done that in the past) For some more details and pictures check out
this post
If you do not have an ice cream maker than place the mixture in the freezer. When it begins to freeze around the edges, remove and stir it vigorously with a whisk or spatula. Return to freezer and continue this process every 30 or so minutes, stirring at least five to six times. Allow it to freeze and serve. If you want more details on this process check out
this post