When I am in a hurry and looking for something simple, quick and nourishing, simple curries paired with
phulkas
are my favorite menu choice. I never get tired of this simple comforting combination. On such days I only want to make curries that are really fast to make and do not involve any elaborate steps. This corn bell pepper curry definitely fits the bill.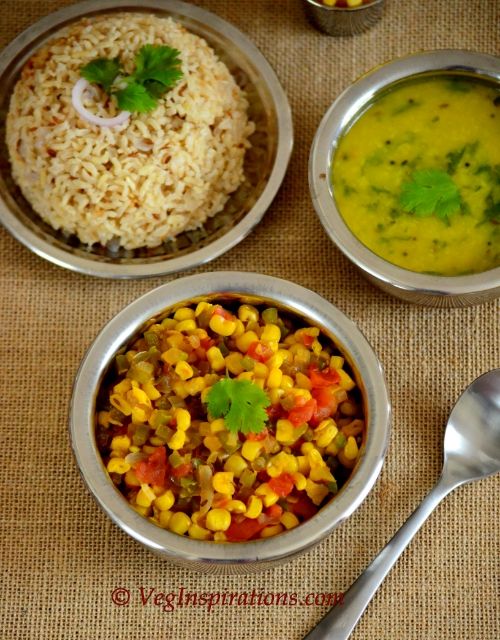 This curry is inspired by
this lemon flavored corn salad
. Every time I made the salad, I kept thinking that the combination of corn and bell pepper would work great in a curry too and that I need to try it out one day. Once I did, this curry became a regular in my kitchen. This is a quick, flavorful and simple curry with a emphasis on the simple, no exotic spices or flavors. It tastes works very well with phulkas (Indian flat bread) but also tastes just as good in any Indian themed meal. This time I made it with some jeera brown rice (cumin flavored brown rice) and some dhal :)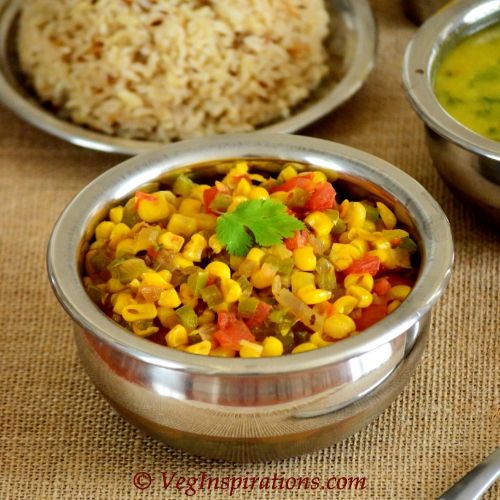 Click here for a printable view of this recipe
Ingredients and Method to make corn with green bell pepper curry
4 cups frozen corn kernels (see notes)
1 green bell pepper (capsicum/ koda molagai) deseeded and cut fine
1 medium sized red onion cut fine
2 medium tomatoes cut fine
2 tsp clarified butter (ghee/nei) or oil (use oil for a vegan version)
3/4 tsp cumin seeds (jeera/ jeeragam)
1 thin sliver ginger grated fine or 1/2 tsp minced ginger
salt to taste
1/4 tsp turmeric powder
1/4 tsp red chili powder (or to taste) (Can be substituted with cayenne pwd)
1/4 tsp coriander powder
1/4 tsp cumin powder
Heat oil in a large heavy bottomed pan. Add cumin seeds, when the seeds sizzle a little, add onions and saute until onions turns transparent.
Add ginger and stir a few times. Add tomatoes and stir until the tomatoes turn soft and mushy.
Add all the spices and stir a few times. Add bell pepper and corn kernels, salt to taste and water as required and cook until the corn is soft, yet retains its shape.
The copyright of this content belongs to
Veginspirations.com
Remove from heat and serve hot with
phulkas/ rotis (flat bread)
or as a side in any kind of Indian themed meal.
Notes:
I used frozen corn kernels, but you can easily use fresh corn kernels too, it might take a little longer to cook but not too much longer :)
Other easy curries that go well with phulkas/ Indian flat bread, or rice and dhal....