Got curious when you saw the title of this post, didn't you ? I definitely was, when I first saw a reference to watermelon curry in a Nita Mehta cookbook that I purchased recently. Unlike
this watermelon curry
that I tried out what feels like eons ago which used the rind part of the watermelon, this curry actually uses the red fruit part of the watermelon. So I have to admit I was kind of skeptical. I knew the rind part works well in curries mainly because it does not have a very strong sweetness, but the red part in a curry was not something I was sure about at all.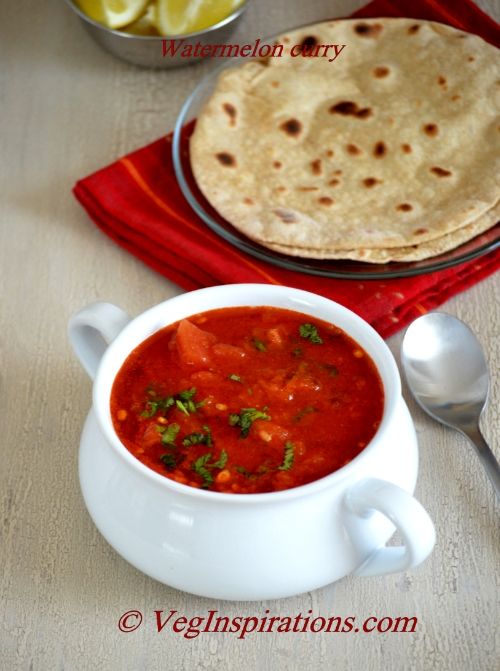 That said, I have to admit I was very, very curious and decided to try it one day. I made sure I had a back up plan in case this one did not work out the way I expected and started to make the curry. The first time I made the curry I pretty much followed the recipe I found in the cookbook. Since we liked it, I made this a few more times and have been modifying the recipe a little bit each time I made it. This version is the one I love the most. All the flavors in this curry are very subtle, yet together they work very well. This curry also has to be one of the simplest curry recipes ever, there is hardly much work involved in making this curry. Just season, simmer with spices, garnish and your done. If you are in the mood to experiment with watermelon, give this curry a try and as always do let me know your thoughts on the curry :)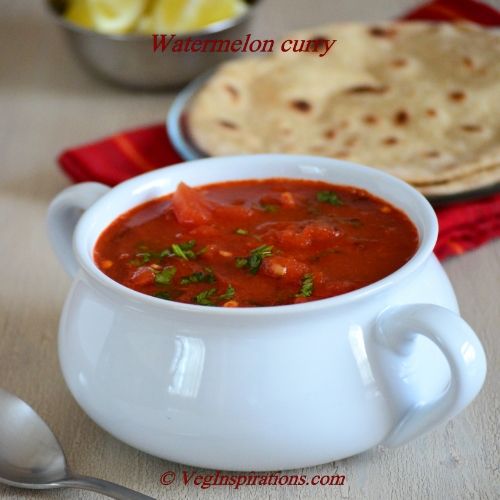 Click here for a printable view of this recipe
Ingredients and Method to make Watermelon curry
4 cups of cubed ripe, seedless watermelon pieces (1/2 inch cubes)
1 cup of ripe, seedless watermelon pieces pureed until smooth
2 tsp oil
3/4 tsp cumin seeds (jeera/ jeeragam)
a pinch of asafoetida (hing/perungayam)
1/8 tsp turmeric powder
1/4 tsp red chili powder (or to taste)
1/2 tsp coriander powder (dhania powder)
salt to taste (I used approx 1/2 tsp for this quantity)
Garnish
3 to 4 tbsp finely chopped cilantro (coriander leaves/ hara dhania/ kothamalli)
1 tsp lemon juice
Cut watermelon into 1/2 inch cubes. Puree one cup of cubes until smooth. Keep both of these aside.
Heat oil in a large heavy bottomed pan. Add cumin seeds to it, when the seeds sizzle add asafoetida powder. Stir once or twice, then add turmeric powder, chili powder and coriander powder and stir a couple of times.
The copyright of this content belongs to
Veginspirations.com
Add cubed watermelon pieces, salt to taste and watermelon puree and allow to simmer for a few minutes until all the flavors mingle and the cubes are slightly softened.
Remove from heat and garnish with lemon juice and cilantro. Mix well, serve hot with any kind of Indian flat bread like roti/ phulkas or on a bed of plain steamed rice.
This curry tastes best fresh or within a few hours of making, if refrigerated use within a day for freshest taste.