Chaats usually refers to a variety of savory Indian snacks. There are many different dishes that come under the category of chaat, and almost all of them are made with a variety of flavors and ingredients. The resulting mix of flavors, texture and taste is just fantastic. Whether sold from a humble cart or in a large restaurant, these immensely popular snacks are easily available everywhere in India and always seem to draw the largest crowds too :)
Recently I had some serious craving for chaat and decided to make it at home. Almost all chaat have this typical combination a little sweet, a little tart and a little heat from a combination of chutneys. This dates sweet chutney which is an integral part of most chaat items, provides a lovely combination of sweet and tart and a subtle and intriguing touch of heat from the chili powder. Even though it is typically used in chaat, this chutney can just as easily be used to go with samosas, as a dip for veggies or chips.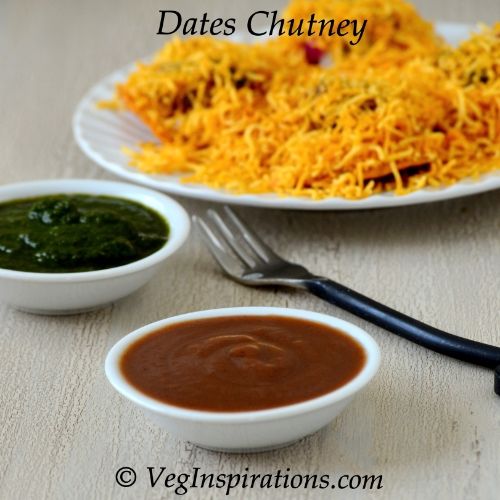 Click here for a printable view of this recipe
Ingredients and Method to make Dates Sweet Chutney
20 nos Seedless Dates (khajur/ pericham pazham)
Tamarind de-seeded - about a medium lemon sized ball (Imli/ Puli)
1/2 cup grated jaggery (gud/vellam)
1/4 tsp black salt (kala namak)
3/4 tsp roasted cumin powder (jeera powder)
1/2 tsp salt (namak/uppu)
1/2 tsp red chili powder (lal mirch/ molagai podi)
Place dates and tamarind
in separate containers and fill each of the container with just enough water to submerge the dates and tamarind. Place both containers in the pressure cooker, covered with lids and cook until soft ( I usually keep mine for about 3 to 4 whistles in my pressure cooker)
Roast cumin seeds on low to medium low heat until it emits an aroma. Remove, cool and grind to fine powder. I usually roast about 1/4 cup of jeera seeds, powder and store in an airtight container and use as required in various recipes.
The copyright of this content belongs to
Veginspirations.com
When the pressure subsides from the cooker, remove dates and tamarind and puree to a smooth consistency, in batches if required.
Strain this puree. Add the strained puree to the heavy bottomed pan, add grated jaggery, black salt, roasted cumin powder, salt and red chili powder and allow to simmer. Stir frequently, the jaggery will melt and then slowly the mixture will begin to thicken slightly. Remove from heat, cool thoroughly and pour into a clean bottle and store in the refrigerator for upto a week.
Use in any chaat recipe, as a side to somosas, or as a dip with any veggie or chips.