Cilantro chutneys are my favorite kind of chutney. There are so many variations of cilantro chutney that work so well in a wide variety of dishes, in everything from chaats to sandwiches to being served along with samosas. I feel a little cilantro chutney makes just about everything a little more interesting :). In the past, I have already posted a few versions of cilantro chutney in this space,
this one with peanuts
,
this version with mint leaves
, and
this version with a touch of yogurt
and I enjoy making all these versions of cilantro chutneys fairly frequently.
This version is the one that I make whenever I make green chutney for chaats. If you are wondering what chaat is, I explained it briefly in
this post
. This is a very simple chutney and it tastes great not only in chaats, but also in sandwiches, as a dip for veggies/ chips etc. This time I used it in some yummy sev puri (that I will post shortly) and thoroughly enjoyed this not so frequent treat :)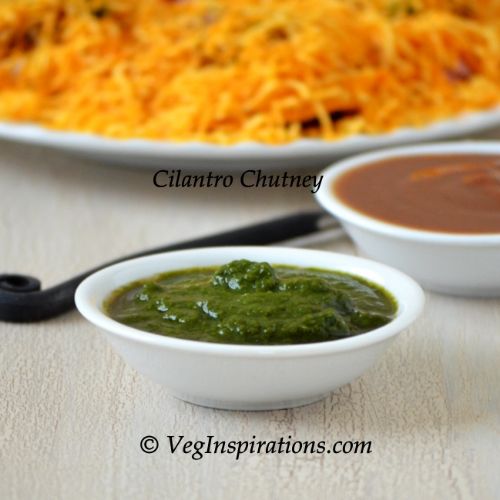 Click here for a printable view of this recipe
Ingredients and Method to make Cilantro Chutney
2 packed cups cilantro (coriander leaves/ hara dhania)
1/2 packed cup mint leaves (pudina )
3 Thai or Indian variety green chilies cut fine (or to taste)
1 inch ginger cut into little pieces
1/4 tsp roasted and powdered cumin(jeera powder)
salt to taste (I used approx 1/2 tsp)
1 tsp lemon juice
Roast
cumin seeds on low to medium low heat until it emits an aroma. Remove, cool and grind to fine powder. As I mentioned in
this post
, I usually roast about 1/4 cup of jeera seeds, powder and store in an airtight container and use as required in various recipes.
Wash and drain the cilantro and mint leaves. Puree the leaves with the green chilies, ginger, adding just as much water as required to a smooth paste. Add salt to taste, cumin powder and lemon juice and give it another turn in the blender.
The copyright of this content belongs to
Veginspirations.com
Remove and store in an air tight container and use as required in chaats, with samosas or in a sandwich or as a dip with veggies/ chips
Refrigerate the balance if any and use within a couple of days for freshest taste.