Ever since the first time I used avocados in
this roti (Indian flat bread)
I have been enamored with the the fantastic texture and softness that avocados impart to bread and it's always been at the back of my mind that I need to try avocados in some kinds of baked breads too. After experimenting with avocados in everything from
chutneys
, some
more flat breads
and even ice cream (that did not make it into this space) I finally decided to try avocados in brownies .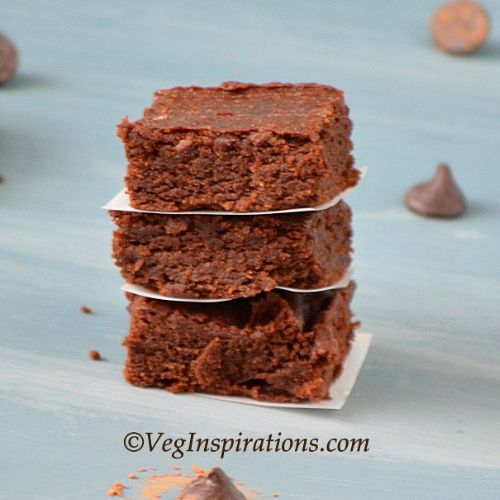 Brownies are the kind of decadent treats that I very rarely make at home. Mostly because I know that if I make it I would find it very difficult to resist and would probably end up eating more than I should, and then feel guilty that I did :) But there are times when a little indulgence is good and if one can manage to sneak in a few healthy ingredients into the "indulgence" to make it a tad bit healthier than it's even better.
And that is just what I did with this brownie, between using whole wheat flour and avocados this brownie is definitely a tad bit healthier, and the best thing is you would never guess that this brownie has even one healthy ingredient. These brownies turned out soft, moist and decadent. No one if my family guessed it had avocados in them and were really surprised when I told them that the brownies had avocado. So what are you waiting for, you know you deserve to indulge a little, go ahead and give this treat a try and tell me what you think about it :)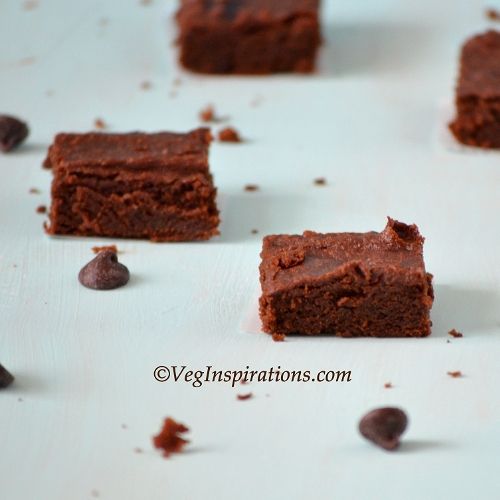 Click here for the printable version of this recipe
Ingredients and Method
to make Avocado Brownies
1 cup semi sweet chocolate chips
2 tbsp butter melted
1 large avocado peeled and de- seeded
4 tbsp water
1 cup whole wheat flour (atta/ godumai maavu) (can be substituted with all purpose flour/ maida)
1/2 cup fine sugar (see notes)
1 tsp baking powder
1/4 tsp salt
1 tsp vanilla essence
3 tbsp milk
a few drops of oil/ or a little butter to grease the baking dish.
Pre heat oven to 350 deg F (approx 180 deg C)
Grease a 9X9 inch pan with a little oil/ butter and keep aside.
In a microwave safe dish melt chocolate chips + butter in 30 sec increments until the chocolate chips are fully melted. It took me about 1 to 1 and 1/2 mins in my microwave for the chocolate to melt.
Add melted butter to the melted chocolate chips and mix well.
Cut avocado in half, remove the seed, peel the skin and puree avocado with 4 tbsp of water until it is smooth. This yielded 1 cup of puree. Add puree to the melted choco chips + butter and mix well. Add sugar to this mixture and mix well.
In a separate bowl, add whole wheat flour, baking powder, salt and mix well. Add this flour mixture to the choco + avocado mixture and mix gently. Add vanilla essence and milk and mix again.
The copyright of this content belongs to
Veginspirations.com
Pour this batter into pre greased pan, level it a little with a knife or the back of a spoon and bake for 20 to 22 minutes or until a tooth pick/ cake tester inserted in the center comes out clean.
Cool a little, cut into squares and enjoy :)
Notes:
With this quantity of sugar this brownie has mild sweetness which is the way we all like it at home. If you like a more pronounced sweetness in your brownies, you could increase the sugar to 3/4 cup.
If you use a different sized pan, the baking times could vary, a smaller pan would take longer and a larger pan would take lesser time. Also a smaller pan would give you thicker brownies and a larger pan would give you a thinner brownies.