If there ever would be a contest for my most favorite curry among the many variations of
eggplant curries
that I usually make or have tasted when I eat out, baingan bharta would easily win hands down. Baingan bharta for those of you unfamiliar with Indian cuisine, is a term that refers to roasted eggplant curry. This simple name does not do justice to this humble yet hearty and delicious curry.
Traditionally this curry is made by roasting eggplant over an open flame, when the skin is charred and the eggplant is cooked and soft, the skin is removed and discarded, the insides are mashed and used in the curry. This process lends the eggplant a smoky taste and texture. Alternatively eggplant can be baked in the oven until done and it can be similarly used in the curry. I prefer the latter method mainly because R and I are not too big on smoky flavors and baking the eggplant brings out the flavor of the eggplant beautifully, enhancing the taste of this curry.
One of the nicest things about this curry beyond the fact that it is delicious is that it does not take very long to make, and requires just minimum spices. Nothing exotic or elaborate about this curry, although you would not know that from the taste :) So go ahead and give this a try and tell me what you think about it :)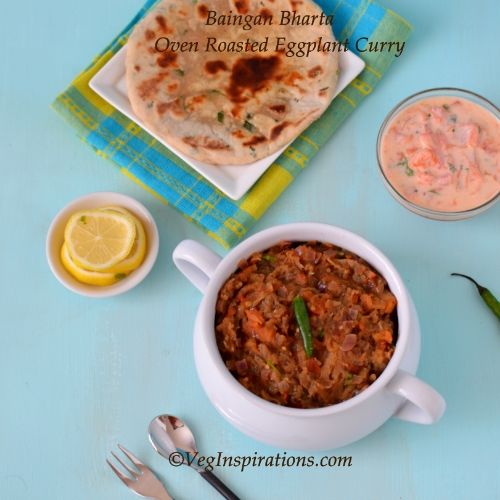 Click here for the printable view of this recipe
Ingredients
and Method to make Baingan Bharta
2 large eggplants (baingan/ kathrikai)
1 very large onion or 2 medium onions cut fine preferably red onions (yielded 2 cups of cut pieces of onion) (pyaaz/vengayam)
4 medium sized tomatoes cut fine (yielded 2 cups of cut pieces of tomato)(tamatar/thakkali)
3 Thai or Indian variety green chilies (or to taste) (hara mirch/ pachai molagai)
a thin sliver of ginger minced = 1/2 tsp minced ginger (adrak/inji)
2 tbsp oil + a little extra to apply on the eggplant
3/4 tsp cumin seeds (jeera/ jeeragam)
1/4 tsp turmeric powder (haldi/ manjal podi)
1/2 tsp coriander powder (dhania powder)
salt to taste (namak/uppu)
1/2 tsp garam masala (or to taste) (to know how to make your own garam masala click
here
)
handful of cilantro (coriander leaves/ hara dhania/ kothamalli) cut fine for garnish
Pre heat oven to 350 deg F (approx 180 deg C). Line a tray with foil. Wash and wipe dry eggplants. Apply a little oil evenly around the skin of the eggplant. Place on tray and bake until done. It takes anywhere between 40 to 60 minutes depending on the size and thickness of the eggplant. You know when the eggplant is done if when pressed with a spatula it feels soft. Remove from the oven, cool a little and peel the skin. Place the peeled eggplant in the a large bowl and mash thoroughly.
In a large heavy bottomed pan, heat oil. Add cumin seeds to it, when the seeds begin to sizzle add onions and saute until the onions turn pinkish. Do not allow the onions to brown, once onions are pinkish and soft add green chilies and minced ginger and stir a few times.
The copyright of this content belongs to
Veginspirations.com
Add tomatoes and cook until tomatoes are soft and mushy. Add turmeric powder, coriander powder and stir a few times. Add mashed eggplant, salt to taste, garam masala and mix well. Allow this mixture to heat for a few minutes to allow the flavors to mingle.
Garnish with cilantro and serve hot with any kind of
naan/ kulcha
/
roti/chapathi/ phulkas
(Indian flat bread) or even with some
jeera rice
(cumin flavored rice) and
some dhal
on the side for an Indian themed meal or if you are not in the mood to fuss you can even just serve this with some multi grain bread for a quick and easy meal.