Did the title of the post make you go, " Hmmmm.... Poha in a ladoo ?" believe me, you aren't the only one. I was quite a skeptic about this combination until I tried it myself. Before I made this ladoo, poha in my home was used in a host of savory dishes, like "Batata poha/ kanda poha ", " Limbu aval/ lemon flavored poha" and dosas such as "this
tomato aval dosa
" etc. The only sweet version of aval/ poha that I used to make was vella aval (poha sweetened with jaggery). So when a friend first mentioned aval ladoo I was quite skeptical. Yet I was curious enough to want to try it and I have to say I was pleasantly surprised at how awesome the ladoo tasted.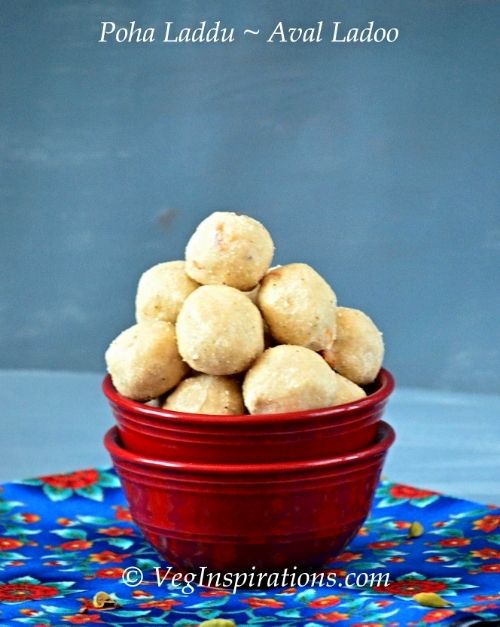 Since then I have made this ladoo many times, especially recently. My in laws are here with us now, and my father in law, like me, adores sweets. That is all the reason I need to make sweets a lot more often these days :) This ladoo has already featured a few times in our home recently and every time I make it, my father in law just loves it. And really what's not to love, it is so yum that I can never stop at just one :) And the best part is that this ladoo hardly takes any time to put together, it is so quick and easy. There is just no fuss, no syrup or consistency to worry about, it is just fail proof. So if you are looking for a quick and easy Indian sweet for the festive season, or as a treat for you and your family, give this ladoo a try and tell me what you think:)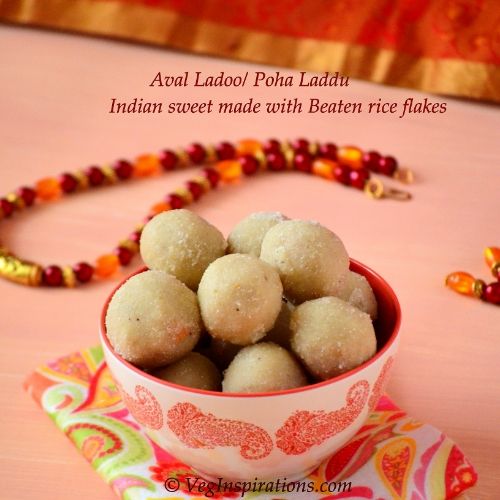 Click here for a printable view of this recipe
Ingredients
and Method to make Aval Ladoo
2 cups medium beaten rice flakes/jada poha/ aval
3/4 cup sugar
1/2 cup + 1 tbsp warm clarified butter (ghee/ nei)
2 tbsp broken cashew nuts (kaju)
1/2 tsp green cardamom seed powder (elaichi/ elakkai)
Dry roast aval/ poha in a heavy bottomed pan on low to medium low heat, until it turns into a creamy brownish color. Keep stirring it frequently so that it roasts evenly. You know it is done when you are able to easily crush a few flakes between your fingers. Remove from heat, spread on a plate and allow to cool thoroughly.
To show the comparison of roasted poha with unroasted one, here is a picture that shows the roasted poha and below you can see the unroasted poha...
In the same pan, heat 1 tbsp of ghee on low to medium heat, add broken cashew and roast slowly until it turns reddish. Remove from heat and keep aside.
Powder the roasted aval until it is mostly fine. The texture should be like fine semolina (fine rava), this way the ladoo gets a little crunch that is delicious and has a bit of rava ladoo like texture to it:) Place this powdered aval in a large bowl. Powder sugar until fine. Add elaichi powder to the sugar and give it another turn in the blender/ mixer for the two powders to blend. Remove and pour this powdered sugar into the large bowl and mix well.
The copyright of this content belongs to
Veginspirations.com
Add roasted cashews/ kaju to the two powders and mix well. Finally add warm clarified butter/ ghee to the powder and mix with a spoon until it gets mixed in well.
Make small gooseberry/ lemon sized balls with the mixture and keep aside.
Store in an airtight container. This sweet does not require any refrigeration and can be stored in your kitchen shelf. Enjoy within a few days if it lasts that long :)
Yielded approx 15 to 18 small lemon sized balls.