For the longest while now I have wanted to make my own sun dried pesto. I vaguely remember trying one version a long while back, but I did not note down the recipe that time. Every time I make paninis I think I should make my own pesto, but somehow find some kind of pesto already in my refrigerator and I put it off for another time.
Last week I had planned to make
this grilled vegetable paninis
one day and thought it would be the perfect time to try out the sun dried tomato pesto that I have been planning for so long. I assembled all the ingredients and a few minutes later, the pesto was ready :) And it tasted just awesome, very fresh and flavorful. This has to be the easiest thing I have ever tried in the kitchen, it made me wonder why I ever buy pesto when making it is so simple :)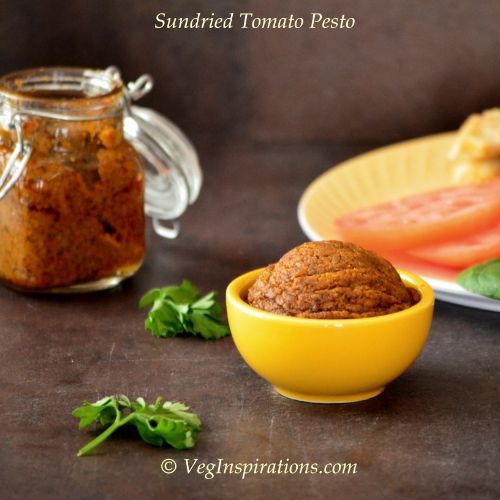 Click here for a printable view of this recipe
Ingredients
and Method to make the Sun-dried Tomato Pesto (Adapted from
this recipe
)
1 cup sun-dried tomatoes (the kind that is packed in oil, drained)
1 cup freshly grated parmesan cheese
1/4 cup fresh parsley
2 tsp dried basil (or 2 tbsp fresh basil if you have that)
2 garlic cloves (peeled and cut into small pieces)
4 Tbsp extra virgin olive oil (you can reserve the oil from the sun-dried tomatoes and use here too)
salt to taste
pepper to taste
1/4 tsp crushed red pepper (optional)
Assemble all the ingredients. Process in a food processor, mixer/ blender until all the ingredients are ground and the mixture forms a coarse paste.
The copyright of this content belongs to
Veginspirations.com
Remove and store in an air tight container in the refrigerator. The original recipe says this should last a month in the fridge, but I have never kept it that long since mine does not last as long. Will update if I end up storing it for a month :)