As I mentioned in
this post
, weeknight dinners are usually the time when I look for simple meals that are hearty and satisfying. Nothing fancy or elaborate looks appealing then, I just want something that is quick and tasty. And this tomato rice fits the bill perfectly. It is super easy, requires a minimum of ingredients and yet is big on flavor and taste. Or maybe it's just because I am a tad bit partial towards tomatoes :)
I usually pair this with a hearty mixed vegetable raita such as
this one
or sometimes with
this palak raita
(spinach yogurt dip) , but you can just as easily pair this with
any kind of curry
if you wish. So if you are a tad bit partial to tomatoes too, give this easy peasy rice a try and as always, let me know what you think about it :)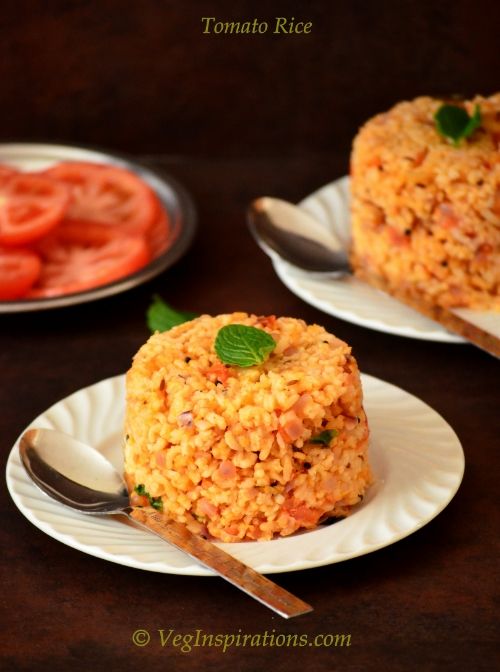 Click here for a printable view of this recipe
Ingredients and Method to make Tomato Rice
5 cups of cooked rice (see notes) (chawal)
1 large onion cut fine (pyaz/ vengayam)
4 medium large tomatoes cu
t
fine (Yielded 3 cups of cut pieces) (tamatar/ thakkalli)
1 Tbsp oil
4 Thai or Indian variety green chilies slit lengthwise (or to taste) (hara mirch/ pachai molagai)
3/4 tsp mustard seeds (rai/ kadagu)
3/4 tsp cumin seeds (jeera/ jeeragam)
salt to taste
Cook rice and spread on a plate to cool. If you are using day old rice, then you can just proceed to the next step.
Heat oil in a large heavy bottomed pan. Add mustard seeds to it, when the mustard seeds splutter, add cumin seeds. When cumin seeds sizzle, add green chilies and stir a few times.
Add onions and saute until onions are translucent. Add tomatoes, a pinch of salt and stir until the tomatoes are cooked and soft.
Add cooked rice, salt to taste and mix well. Allow the rice to heat on low to medium low heat for a minute or so until it heats through, stirring gently so as to not break the rice.
Remove and serve hot with
any kind of curry
or with
any kind of raita
and chips/ papad on the side.
The copyright of this content belongs to
Veginspirations.com
Suggested variation : Add 1 Tbsp of tomato ketchup to give this rice a slightly saucy taste:)
Notes:
You can use either brown short grain rice, brown basmati, white basmati rice or short grain white rice for this recipe. Just cook the rice until it is done, yet each grain is separate and firm.
I usually make this with brown basmati rice.After rinsing the rice, I soak about 1.5 cups of brown basmati in about 2.25 cups of water for about 30 minutes, then I pressure cook it until done. Remove from the pressure cooker after it has subsided, spread to cool and proceed with the rest of the recipe.