Nankhatai, a kind of cookie made in India is available in most bakeries there. There are many versions of these cookies, some with just all purpose flour, some with chick pea flour and some with semolina flour or a combination of the three ingredients. Most of these cookies are typically flavored with cardamom, sometimes saffron and some versions have pistachios, almonds, etc.
If you do not want to go to the bakery, there were vendors (whom we referred to as the khari wala) who used to arrive at our doorstep about once every fortnight with a bag full of goodies like nankhatai or khari (puffed Indian savory biscuits) which are considered perfect snacks to go with tea :) When these vendors arrived at our doorstep with their goodies, there were times when I ended up buying the stuff even though I was planning to resist :) What can I say, I have always been such a sucker for sweets and sweet treats :) Anyway for a while now I have been wanting to try and make a batch of these cookies at home, somehow I never got around to making them .......that is until now:) This is a simple, basic version of nankhatai, very quick and easy to make and it tastes perfect to go with either
Indian chai tea
or coffee or even as an anytime snack :)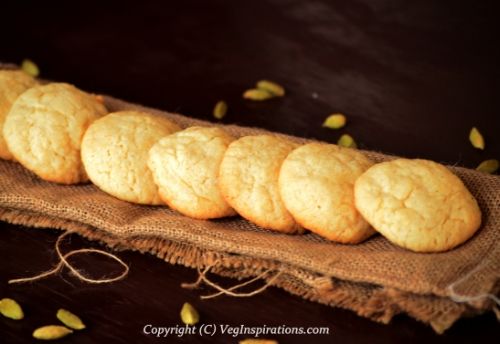 Click here for a printable view of this recipe Ingredients and method to make Nankhatai
1 cup all purpose flour (maida)
1/2 tsp baking powder
1/2 cup sugar
6 tbsp butter softened
1/2 tsp powdered cardamom (5 green cardamom seeds powdered)
a small pinch saffron (optional)
4 tbsp cold milk

1.Preheat oven to 350 deg F. Line a cookie sheet/ tray with parchment paper and keep aside.

2.Cream butter and sugar together.

3. In a small bowl mix together all purpose flour, cardamom seed powder and baking powder and keep aside. Add this flour mixture to the creamed butter and sugar slowly and mix well.

4.Add the milk one tablespoon at a time mixing well in between, knead gently with fingers to form a dough. Divide dough into equally small lemon sized ball, flatten gently and place on cookie sheet lined with parchment paper about an inch or two apart.

5.Bake for about 18 to 20 minutes or so until lower side is golden and the upper side is creamy golden.
Remove, cool completely and store in an airtight container.

Yields approx 18 cookies.