Potato kara curry is a simple, spicy curry from south Indian cuisine. This is a very popular curry and definitely falls under the category of a crowd pleaser. Its popularity probably explains why a lot of south Indian wedding buffets/lunches serve this curry :) And like any other popular curry, there are many variation of this curry that are made. I have seen some versions with garlic, some with curry leaves, some with onions so on and so forth.
This version is my take on this curry. I make it with a spice powder that I feel enhances the taste of this curry a lot, but in a pinch I make this with just chili powder or sambar powder and it tastes wonderful that way too:) This curry pairs perfectly with sambar or rasam, but it can just as easily be used as a side dish to phulkas or as a filling in wraps too.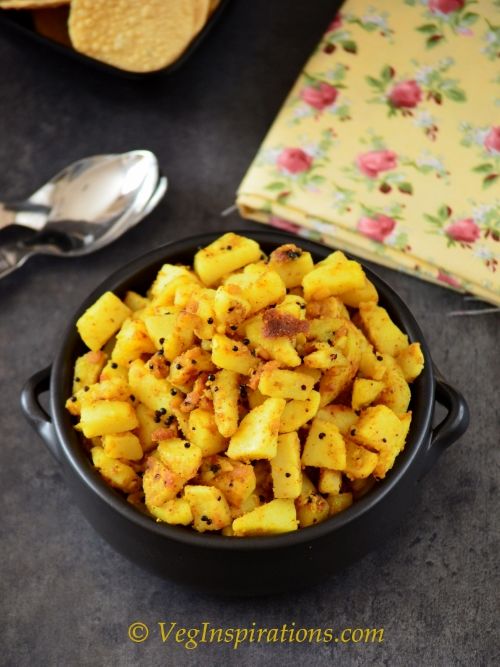 Click here for a printable view of this recipe
Ingredients and Method to make the potato curry
3 1/2 cups of potatoes peeled and cut into 1/2 inch pieces (I used about 4 to 5 potatoes )
2 Tbsp oil
1 tsp mustard seeds (sarson/rai/kadagu)
1 tsp split black gram lentil (udad dhal/ ulatham parappu)
1/4 tsp turmeric powder (haldi/manjal podi)
a pinch of asafoetida (hing/perungayam)
3 heaped tsp curry spice powder or to taste (ingredients and method to make the curry spice powder given below, see notes)
salt to taste
For the curry spice powder
2 Tbsp split chick pea lentil (chana dhal/ kadalai parappu)
2 tbsp coriander seeds (dhania)
1/2 tsp fenugreek seeds (methi dana/mendiyam)
4 dry red chillies
Dry roast all the ingredients for the spice powder seperately on a low heat. The lentils should turn reddish brown, coriander seeds slightly darker, fenugreek seeds slightly darker, red chillies until just warm. (Take care that none of the ingredients char or burn as it will spoil the taste of the curry)
Cool and powder using a spice jar or in a regular blender until it becomes a smooth powder.
The quantity given above will be sufficient to make curry two to three times depending on the quantity used in the recipe.I store the balance in a dry airtight container and it easily keeps for about a month.
Feel free to scale down the quantities if you do not want to store this powder, or if you want to skip this powder entirely read the notes below.
Peel and cut potatoes into 1/2 inch pieces and keep it in a bowl filled with water. This helps avoid discoloration of potatoes.
In a heavy bottomed pan,heat oil and add mustard seeds and split black gram lentil.When the mustard seeds start spluttering and the lentil starts turning reddish brown, add asafoetida and stir once or twice. Then add turmeric powder and stir quickly once or twice, then add drained potatoes.
Add salt to taste and mix well, sprinkle a little water, close with a lid and cook the potatoes on a low heat. Stir frequently and sprinkle additional water if required.
Once the potatoes are cooked and soft, add the curry powder to this and mix well.
Adjust the spice level as per taste. Heat for another minute or two. Remove from heat.
Serve hot with plain steamed rice and
sambar
on the side or
rasam
on the side.
Notes:
If you do not want to use the spice powder in this above recipe, just use red chili powder to taste in its place. That tastes good too. Or you can use a little sambar powder instead of the chili powder or the spice mix above. That works as well :)