Sweet Dosa or Vellam/vella dosai as it is called in tamil is a traditional south Indian preparation.It is simple to make, well liked and is very versatile as it can be served as a side dish, snack or a dessert.This is one of those dishes that I find fulfills my craving for something sweet and yet it is a guilt free snack since it is made of wheat flour and jaggery.
I used to make this fairly frequently in the past ,but recently somehow this has not featured in my kitchen for quite some time, until the other day when i was chatting with my mother in law on the phone and she mentioned that she had just had this and I was immediately hit by the craving to make this myself.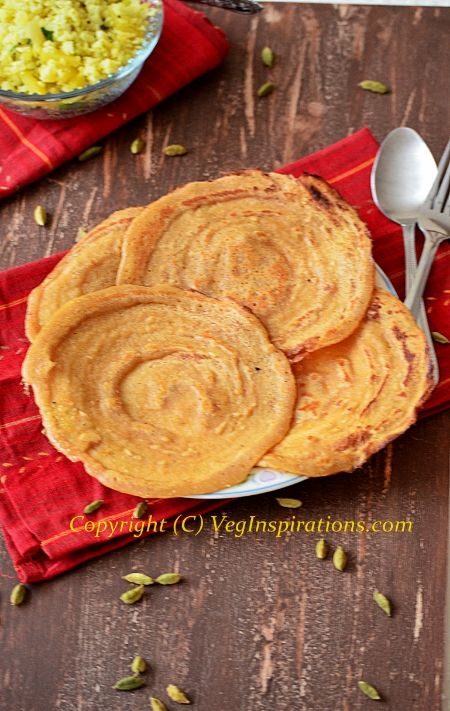 Click here for a printable view of this recipe
Ingredients and Method to make the Vellam Dosai ( Sweet Indian Crepe)
1 cup jaggery cut into small pieces
1 cup wheat flour
1 cup water
1/4 tsp cardamom powder
2 tsp grated coconut
very little sesame oil or corn oil to cook the crepe
In a heavy bottomed pan add water and jaggery and heat on a low flame until the jaggery completely melts.Take care that the water and the jaggery do not boil.
Once the jaggery has completely melted cool this.
Add to this jaggery water mixture the wheat flour and mix well taking care there are no lumps in this batter.
Add cardamom powder and grated coconut to this batter and keep aside
Heat a tawa/griddle and pour a ladle of this batter on it and gently spread to make pancake sized circle. Add a few drops of oil to the side facing upwards.
When the lower side is cooked gently flip it and cook the other side.
The copyright of this content belongs to
Veginspirations.com
Proceed with the rest of the batter in the same manner. Refrigerate the balance of the batter and use within a couple of days. If refrigerated this batter may thicken, add a little water to get the right consistency and make as mentioned above.
Serve hot
Yields approximately 6-7.
Now for something new that I have never done before
Sripriya
and
Sukanya
have both tagged me for the book meme.
The rules of the tag are as follows:
Pick up the nearest book
Open to page 123
Find the 5th sentence
Post the next three sentences
Tag 5 people and acknowledge the person who tagged you
So in keeping with the rules here are sentences six through eight of my current book.
She acknowledged the truth of this.But her view is that I have to rely on advice not only from officials.She believes that Humphrey is trying to shut off all my sources of information and advice except the Civil Service.
Did you recognize the book..no ..well this is an excerpt from the The Complete Yes Prime Minister by Jonathan Lynn and Anthony Jay.I have read the complete Yes Minister by these same authors and found it hilarious and after a long search I finally found the Yes Prime Minister and bought it and am in the process of reading it now.
I would in turn like to tag
Sowmya
,
Taste Tinkerer
,
Sukanya
,
Karuna
and
Vaishali
Related Recipes
Brown Rice Adai (Savory Pancake with Brown Rice and Lentils)