When I run out of snacks at home and the mood for munchies strikes me, one of my favorite snacks is this version of microwave masala peanuts. This is really a simple, quick and tasty treat that makes a great tv time/ movie time snack.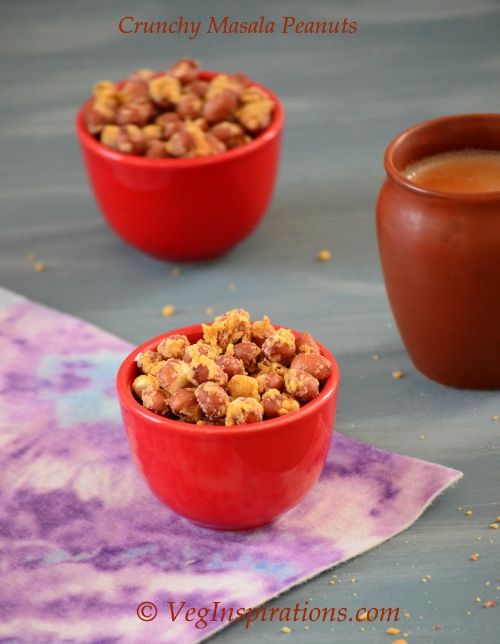 The very first post on this blog, I had posted
another version
of these masala peanuts. This version just uses chickpea flour (besan) and rice flour (chawal ka atta) Traditionally these snacks are deep fried, but I have been making this in the microwave for a long time now and find that it tastes just as good and is just as crunchy as the deep fried ones without the guilt associated with frying and the calories of course :-)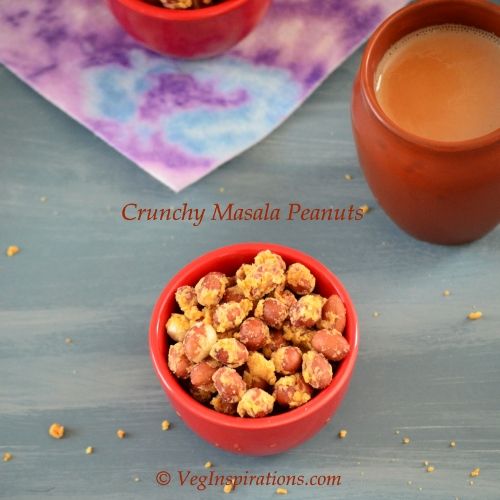 Click here for a printable view of this recipe
Ingredients and Method to make Masala peanuts
1 3/4 cup Raw peanuts (mungphali/kadalai/verkadalai)
1/4 cup rice flour (chawal ka atta/ arisi maavu)
1/4 cup chick pea flour (besan/kadalai maavu)
1 1/4 tsp salt (or according to taste)
1/2 tsp red chili powder (or according to taste)
1/8 tsp asafoetida (hing) (optional)
1/2 tsp garam masala (can be substituted with any other kind of curry powder) or to taste
To know how to make your own garam masala check out
this post
3 tbsp oil (any flavorless oil is fine)
scant 1/4 cup water
In a large wide glass dish or any other microwave safe dish, mix together all the dry ingredients.
Add oil to this and mix well.
Add water one tbsp at a time and mix well.
Place the dish in the microwave and heat for 2 mins initially.
The copyright of this content belongs to
Veginspirations.com
Remove, break lumps and stir the peanuts and place back in microwave and repeat this process in 1 minute increments until done.
The time in the microwave will depend on the wattage of the microwave, it took me approximately about 7 minutes.
When the peanuts turn darker, into a deep rosy/red color it means it is done, it may still seem soft when you taste it while hot,but when it cools, the peanuts are crunchy.
Suggested Variation:
Skip the garam masala and add 1 tsp of fennel seeds (saunf/sombu) for a different taste and flavor