Khichdi, as I explained in my post
here
, is a dish made out of rice and lentils that is simple, satisfying and wholesome. I find this the perfect comfort food and a great life saver for days when all I want is something familiar and simple and have no patience to try something exotic or different. Last week when I returned home in a rush and was thinking about dinner ideas, all I could think of was to make some khichdi. But since the basic khichdi lacks vegetables, my conscience would not permit me to make just that and be done. So I thought of trying to make a khichdi with some vegetables in them.
Since time was short I could not turn to my most trusted source for new recipes....the internet, so I just made this dish up as I went. I cooked the rice and lentils in a pressure cooker with the bay leaves tossed into it so that their flavor could get absorbed by the rice and lentils. I then used cumin seeds, asafoetida and a little chilli powder to impart more flavor to this dish.I kept the flavors in this rice dish minimalistic,since I wanted something on the simpler side as far as flavors go, so this is one rice dish that will work well with spicy curries too. I enjoyed this version of khichdi so much, I know I will be making this far more frequently than the other plain version. Try this when you are looking for simple and comforting one pot dishes and a change from the usual pulao's and biryani's :-)
If you are looking for one dish meals, you can also check out these other one dish meals
Bisi Bele Bhath
Kadambam Saadam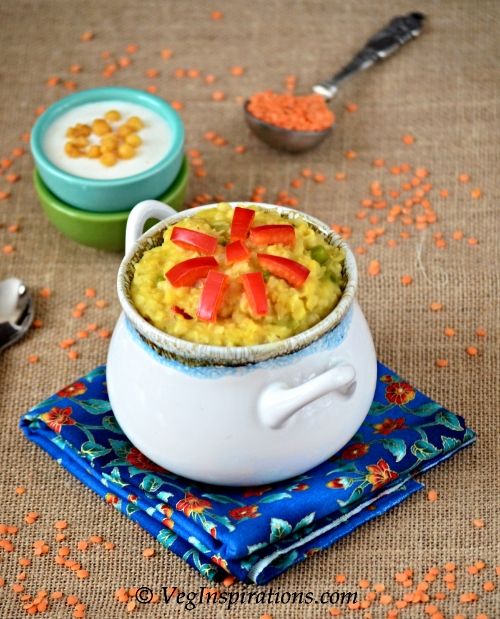 Ingredients and Method to make Mixed vegetable khichdi
1 1/4 cup brown basmati rice (or white rice, see notes)
3/4 cup split red lentils (masoor dhal/ mysore parappu)
3 small bay leaves or 1 large bay leaf
1 medium sized onion cut fine (pyaaz/ vengayam) (Optional)
1 1/2 to 2 cups of mixed vegetables (cut into 1/2 inch pieces) ( I used a combination of cauliflower, carrots and peas but any seasonal vegetables like beans, carrots, potatoes, peas and bell pepper/ capsicum can be used)
1 Tbsb Clarified butter (ghee/nei)
1/8 tsp asafoetida (hing/ perungayam)
1/8 tsp turmeric powder (haldi/ manjal podi)
salt to taste (namak/ uppu)
1/2 tsp chilli powder or according to taste
handful of cilantro/coriander leaves(hara dhania/kothamalli) cut fine(optional)
Mix brown basmati and whole red lentils,add water to it, swirl a couple of times and drain the water. Repeat this process a few times until the water runs clear.
Add 4 cups of water to this mixture, allow to soak for about 30 minutes. Add bay leaves, place in the pressure cooker and cook until soft. (This takes about 4 whistles in my pressure cooker) Alternatively you can place the rice and lentils in a large pan with the bay leaves and sufficient water to cook the rice and lentils and simmer on medium heat until the rice and lentils are cooked and slightly mushy.
Remove the bay leaves and discard.Keep the cooked rice and lentils aside.
Heat ghee in a heavy bottomed pan and add cumin seeds to it. When the seeds start crackling, add asafoetida, turmeric powder and quickly saute for a second.
Add cut onions (if using) and saute until the onions turn translucent
Add vegetables and sprinkle a little water, a pinch of salt and cook until the vegetables are soft but not mushy.
Add the cooked rice and lentils to it, add chilli powder, salt to taste and mix well. Let it heat on low all the way through for a few minutes.
If you would like to make this with white rice, ideally white rice like sona masuri is a good choice for this dish. To cook sona masuri usually a proportion of 1 cup rice to 3 cups water is used, so for this quantity of rice and lentils you would need about 4 and 1/2 cups of water.
The ghee and the bay leaf mainly do lend a lot of flavor to this dish, so if these are not used it can make quite a bit of difference to the taste.
If you want to spice up this khichdi you could cut 3 to 4 green chillies (small Indian or thai variety) or according to taste and add it immediately after you add the cumin seeds to the ghee, saute for a minute and proceed with the rest of the recipe