If you had an hour or two, with no pressures and no responsibilities, time to do whatever you wished, what would you do? Would you go for a long walk, read a book, listen to music or do something else. All of us have our own ways of taking a break and for relaxing.
If I had such an opportunity, I would happily curl up on a chair with a good book, some soft classical instrumental music on the stereo and a hot cup of ginger tea in my hand. Since I am creating fantasy scenarios, mine also includes the above mentioned hour or two as being completely uninterrupted by telephones, cell phones or the door bell. Ahh bliss !
I am a voracious reader and reading good books is always at the top of my great ways to relax list. I also hate to leave a mystery book or a whodunit unread or worse half read. Unfortunately time to read is not something I have much of these days.
That does not mean I have stopped visiting my local library. The library still provides a treasure trove of books that I never seem to find when I visit bookstores. One such book that I recently checked out was called 1001 Vegetarian recipes. I am not able to recall the name of the author, but it had a lot of interesting recipes in them.
One recipe that caught my attention was an Indian Lentil soup. I loved the simplicity of the recipe and made it soon after I saw it. I modified the recipe quite a bit and loved the final taste of this soup. It reminded me a little of dal makhni, only lighter and not as creamy. The substitution of yogurt instead of cream also makes this soup comparatively low fat.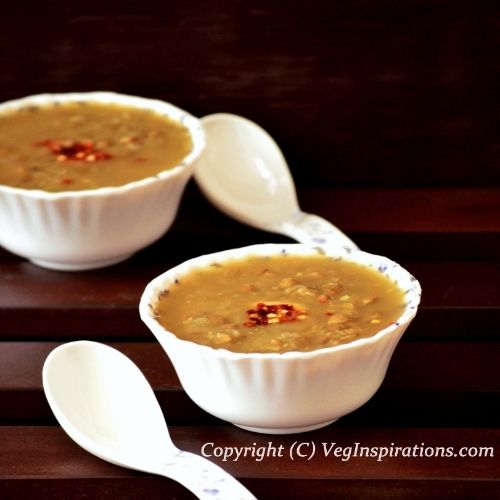 Click here for a printable view of this recipe
Ingredients and Method to make Indian Lentil soup
1 large onion cut fine
1 1/2 cup dry lentils (brown)
3 cups stock or water ( I used water) + approximately 3 cups water
1 tbsp olive oil (or any other oil)
1/4 tsp turmeric powder
1/4 tsp red pepper flakes (or to taste)
1/2 tsp garam masala ( my recipe for homemade garam masala can be found
here
)
1 tsp kitchen king masala (or any other curry powder to taste)
1/2 tsp red chilli powder (or to taste) (optional)
salt to taste
Crush together (see notes)
1 tsp cumin seeds
1 tsp coriander seeds
1 inch piece ginger
1/4 cup plain yogurt (curds/dahi) (Can be skipped for a vegan version)
Additional yogurt (can be skipped for a vegan version) and red pepper flakes as required for garnish
Crush cumin seeds, coriander seeds and ginger with a mortar and pestle and keep aside. Alternatively dry grind the cumin seeds and coriander seeds in your spice grinder, then add ginger, a few drops of water and grind to a fine paste. I used the mortar and pestle (for a quicker version see notes)
Wash lentils, drain and keep aside.
Heat oil in a large heavy bottomed pan, add onions and saute until onions are transparent.
The copyright of this content belongs to Veginspirations.com
Add crushed spices, turmeric powder and the rest of the spices and stir for a second or two.
Add lentils and about 3 cups of water and let it simmer until lentils cook.
When the lentils are almost cooked, add salt to taste and add additional water as required.
I needed about another 3 cups of water but it will depend on how much evaporation has occurred etc. Continue to cook lentils until soft but not mushy.
Lower heat and add the yogurt and mix it in thoroughly.
Serve this soup hot with a dollop of plain yogurt and red pepper flakes with some crackers on the side. Or for some fusion try this with some crushed tortilla chips on top :)
Serves approximately 2 to 3
Notes
You can use whole red or brown lentils for this soup, I used brown lentils
In a pinch, you can use 1/2 tsp cumin powder and 1/2 tsp coriander powder instead of crushing spices. Grate ginger if you plan to use powdered spices. After onions are sauteed until transparent, add ginger then cumin and coriander powder, stir a few times and proceed with the rest of the recipe as above.
Suggested variations:
You can sprout the lentils for a day and add to the soup for added nutrition
This healthy, low fat and protein rich soup is my first contribution to the
Healthy Inspirations event
with the theme soup that is being held on this site.