My cousin R sent me an email that contained this humorous piece in it.I completely enjoyed it and thought my readers may like it too !
-----------------------------------------------------------------------------------------------------------
A woman writes to the IT Technical support Guy
Dear Tech Support,
Last year I upgraded from Boyfriend 5.0 to Husband 1.0 and I noticed a distinct slowdown in the overall system performance, particularly in the flower and jewellery applications, which operated flawlessly under Boyfriend 5.0.
In addition, Husband 1.0 uninstalled many other valuable programs, such as
Romance 9.5 and Personal Attention 6.5, and then installed undesirable programs such as NEWS 5.0, MONEY 3.0 and CRICKET 4.1.
Conversation 8.0 no longer runs, and Housecleaning 2.6 simply crashes the system.
Please note that I have tried running Nagging 5.3 to fix these problems, but to no avail.
What can I do?
Signed,
____________ _________ _________ _________ _________ _________ _________ _________ __
Reply
DEAR Madam,
First, keep in mind, Boyfriend 5.0 is an Entertainment Package, while Husband 1.0 is an operating system.
Please enter command: ithoughtyoulovedme. Html and try to download Tears 6.2 and do not forget to install the Guilt 3.0 update.
If that application works as designed, Husband1.0 should then automatically run the applications Jewellery 2.0 and Flowers 3.5..
However, remember, overuse of the above application can cause Husband 1.0 to default to Silence 2.5 or Beer 6.1.
Please note that Beer 6.1 is a very bad program that will download the Snoring Loudly Beta.
Whatever you do, DO NOT under any circumstances install Mother-In-Law 1.0 (it runs a virus in the background that will eventually seize control of all your system resources.)
In addition, please do not attempt to reinstall the Boyfriend 5.0 program. These are unsupported applications and will crash Husband 1.0.
In summary, Husband 1.0 is a great program, but it does have limited memory and cannot learn new applications quickly.
You might consider buying additional software to improve memory and performance.
We recommend: Cooking 3.0 and Good Looks 7.7.
Good Luck Madam!
------------------------------------------------------------------------------------
Cool huh, I sure enjoyed a good laugh when I read this piece. Let me know what you all think about it :-)
Moving on, Mughlai cuisine rarely finds a place in my kitchen because all that cream and butter does not quite fit in with my regular cooking. That said, on a spur I picked up Nita Mehta's Mughlai Vegetarian cooking when I visited India last time, hoping I may get around to trying something from that book. Yes, I know, mostly it was just wishful thinking :-)
Anyway one of the recipes that appealed to me from that cookbook was this simple spinach curry called palak ka saalan. This recipe below is my adaptation of the recipe I found in the book. The curry turned out to be simple,tasty and quick to make. Try this if you like spinach and are looking for something simple to go with Roti ( Indian flat bread) or even plain rice.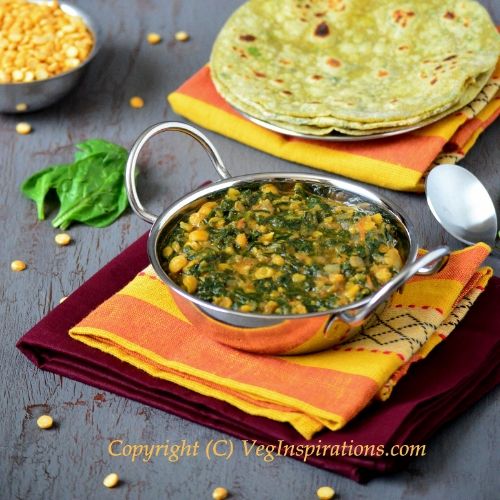 Click here for a printable view of this recipe
Ingredients and Method to make Palak ka saalan
1/2 cup Split chick pea lentil ( Chana dhal/ kadalai parappu) soaked in water for 30 minutes
1 large onion cut fine (pyaaz/ vengayam)
2 medium tomatoes cut fine (tamatar/ thakkali)
4 cups spinach leaves cut fine(palak/ keerai)
1/2 tsp minced ginger (adrak/ inji)
2 green chilies slit lengthwise and cut fine (or to taste) (hara mirch/ pachai molagai)
1 tbsp oil
3/4 tsp coriander powder ( dhania)
1/2 tsp red chili powder (or to taste) (optional) (lal mirch)
1/2 tsp garam masala (My recipe for garam masala can be found
here
) (can be substituted with any other curry powder)
salt to taste (namak/ uppu)
1/2 cup water
Soak chana dhal in water for about 30 minutes.
Cook the chana dhal either in the pressure cooker or on stove top or microwave until soft. Refer to
this post
for steps to cook lentils in different ways. Keep cooked lentils aside
Heat oil in a large heavy bottomed pan, add onions and saute until onions are transparent.
Add ginger and green chillies and stir a few times. Add tomatoes and stir until tomatoes cook and become soft and mushy.
Add coriander powder, red chili powder, garam masala and stir a few times.
Add finely cut spinach, salt to taste, water and let spinach cook for a few minutes.
When spinach is cooked, mash half the lentils and add to the spinach. And add the balance of lentils without mashing. Mix well and heat for a few minutes for the flavors to blend.
Serve hot with Roti of choice or Plain rice
Serves approximately 2 to 3
Notes
You can mash all the lentils and add to spinach too, I just mash half to give it a little texture.