In the interest of keeping this post to a reasonable size I am breaking up this roundup in two parts and will publish part two tomorrow. One last thing before I go on to the roundup, so many of you have taken the time to send in your entries for this event, as a token of my appreciation I would like to give at least one randomly selected participant this handcrafted rice pearls bracelet and matching earrings.I will announce the winner of this giveaway in a post after the roundup is complete.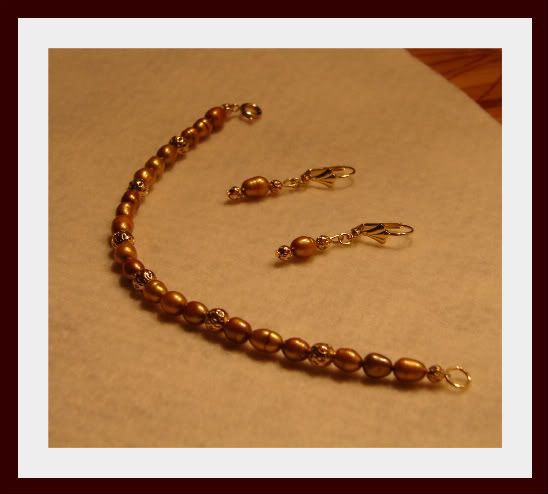 Alright now moving right on to the roundup, all recipes are mentioned in the order that I received them.......

Chick pea Salad

with chickpeas, lettuce, cucumbers, carrots and Usha's own vinaigrette

Fruit salad

with a touch of honey and lemon juice for flavor.

Indianized coleslaw

that combines regular cabbage with red/purple cabbage, some crushed pineapple and carrots and is flavored with Indian spices mustard, green chilies and asafoetida.

Couscous Salad

. She also gives this salad a very interesting twist by adding raisins, cranberries, mint and cilantro to it.

Chickpea (Chana) Chaat Salad

using sprouted chickpeas and then enhances the taste by using sweet date chutney, cilantro and chaat masala.

Couscous Salad

at home with red and green bell pepper, some grapes, jalapeno and cilantro

Apple Pear Walnut salad

flavored with orange juice,orange zest, raisins and pepper, a perfect spring salad :-)

Thai Salad with Peanut dressing

, this salad combines lettuce, cucumbers and carrots with a simple dressing made with peanut butter.

Sprouted Moong Salad

made healthier and crunchier with the addition of peanuts to it.

Beets, Corn and Celery Salad

, that combines vibrant beets with sweet corn and crunchy celery simply flavored with apple cider vinegar and pepper. Her second creation, a Greek salad with an exotic sounding name of

Pantzaria Salata

is a simple combination of beets with garlic.

Creamy Potato and Dill Salad

combines potatoes, tomatoes, dill and mayonnaise resulting in a flavorful and creamy salad, and her next

Simple Salad with Sesame Dressing

, combines everyday vegetables flavored with a very unique dressing made out of sesame seeds, soy sauce and chili sauce

Bell Pepper and Melon salad

which she creates to beat the heat when summer presents them with an intense hot day and this

Rajma with mixed veggies salad

that she created when she found herself with some leftover cooked red kidney beans and decided to combine it with other vegetables to come up with this hearty salad.

Chilled chickpea and Everything salad

that combines chickpeas with other vegetables, she says that any vegetables can be used in this salad, making this salad as versatile as it is delicious :-)

Pasta with carrots and asparagus

, a simple salad made with pasta,carrots and asparagus and flavored with jalapeno mustard, olive oil and crushed red pepper.

Vibrant Mixed Fruit and Veggie salad

, the name says it all for this salad and the second an

Easy Tangy Green Beans Salad with a crunch

, this salad combines green beans with almonds which lend the crunch to the salad

Mango Salad

which is bursting with flavor from raw mangoes, onions, tamarind and soy sauce.

Remember we are not done yet, so do peek in tomorrow to have a look at more creative and healthy salads...

My sincere thanks to all of you who participated in this salad event.The responses have been overwhelming, so many creative and interesting salads from all of you. Sorry about the delay in posting the roundup.As I mentioned earlier, my computer has been giving me a lot of trouble and this roundup got delayed as a result of that.