Can there be anything better than enjoying a cold frozen treat on a hot summery afternoon when the heat index is topping all kinds of records. I sure cannot think of anything :-) This summer we have had far more heat than previous years and the idea of making frozen treats has become so very appealing. In addition ever since I bought
these popsicle molds
I have been wanting to try using them to make some kulfi. I finally got a chance to make some kulfi a few weeks back and it turned out to be a perfect weekend treat.
Kulfi or Indian Ice Cream is different from regular ice cream in the sense that when making kulfi there is no need to incorporate air into the ice cream. It is made by boiling down milk and then freezing it solid.So it is simpler to make and is great choice for those who do not have ice cream makers and have to manually whisk ice cream every hour to achieve the right texture. The only tricky part with kulfi is if you do not boil down the milk sufficiently it may result in some water crystallization which will impact the taste. Other than that, this is a simple and quick dessert that is very hard to resist :-)
UPDATE
: One of the subsequent times I made this, I used the slow cooker and loved how easy and effortless it turned out to be, and I have updated my recipe below with the slow cooker directions for those of you interested in trying this dessert with the slow cooker.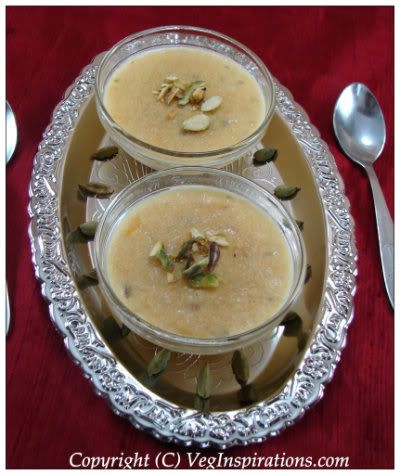 Click here for a printable view of this recipe
Ingredients and Method to make Pista Kulfi
4 cups whole milk
1/2 cup non fat dry milk (milk powder)
1/4 cup sweetened condensed milk
1/4 cup sugar or according to taste
2 pinches of good quality saffron
5 cardamon seeds powdered fine
2 1/2 tbsp unsalted pistachio powdered
1 tsp corn starch (known as corn flour in India)
Powder pistachios coarsely or finely as per your preference and keep aside.(I prefer a slightly coarse powder because I like the texture it lends the kulfi) Powder cardamom seeds and keep aside.
The copyright of this content belongs to
Veginspirations.com
In a large heavy bottomed preferably non stick pan, add milk, dry milk, sweetened condensed milk and sugar and heat on low to medium heat, stirring frequently
making sure
the milk does not burn.
When the milk comes to a boil, lower heat. Add saffron and pistachio powder and simmer for a little while stirring continuously (it took me about 15 to 20 minutes).
When the milk has more than halved, add cardamom seed powder and mix well. Remove a little of the milk in a separate container and add cornstarch to it and mix well making sure there are no lumps. Add this milk+cornstarch mixture back to the
simmering milk
. Allow to simmer for a few minutes, it will become thick and have a custard like feel at this point. Remove from heat, cool thoroughly pour into kulfi molds if you have them or in popsicle molds (like I did) and freeze. If you have neither of these, just pour them into small freezable dessert cups and cover with cling film/ or lids and place in the freezer.
I got approximately 1 1/2 cups of custard like milk mixture which fit into four popsicle molds. When serving remove place the popsicle molds under hot water for a few seconds to help in removing the kulfi easily.
Suggested Variation
Instead of only milk, replace 2 cups of milk with equal quantity of half & half to get a more creamier and richer kulfi.
UPDATE (07/18/2012)
Slow cooker directions to make this dessert
Place milk (or milk and half & half is using) in the slow cooker along with condensed milk and sugar and set on high heat for 4 hours. Stir a few times in between. Around the 3 hour mark, remove a little milk and mix with cornstarch, Make sure there are no lumps and add back to the simmering mixture. Add dry milk, saffron, cardamom and pistachio to the milk and allow to simmer for the next hour. When the milk has more than halved, (it took me a total of 4 hours from start to finish) switch off the slow cooker and allow the milk to cool completely. When cooled to room temperature, pour into kulfi molds/ popsicle molds or into small freezable dessert cups as suggested above and freeze.